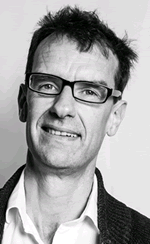 How Business Analysts are Catalysts for Business Change
---
Register Now »
AGENDA »
SPEAKERS » This event is history, please check out the List of Upcoming Seminars, or send us an email
Check out our related open workshops:
Check out our related in-house workshops:
Full Programme:
18.30h - 19.00h
Arrival of participants, opportunity to network
Business analysts play an extremely important role in business change and business transformation.
On the one hand, they are trying to discover the essence of the business problem, whilst finding a better solution for the business processes, and communicating this in such a way that all stakeholders come to a consensus on the best way to improve the business.
As such, business analysis is a combination of modelling, systemic thinking, innovating, communicating, persuasion and several other analytical skills.
We are happy to have James Archer as keynote speaker. James has a lot of business analysis experience in many different application areas. Requirements guru James Robertson will also be present, as well as many users of his requirements method Volere, now probably the most widely adopted requirements technique in Belgium.
Michel Van Montfort will bring a customer testimonial on the role business analysts play in a company based on real-life practical experiences. Michel is Senior Product Advisor at SD Worx, which offers full service in Payroll, HR and Tax & Legal to more than 50.000 large and small organisations in 27 European countries.
We hope to bring together business analysts, requirements engineers and anyone interested in business change, and will create a networking event where everyone can find out how to do their job better.
Registrations, questions, discussion topics, tweets (please use hashtag #bigpICTure) and sponsors welcome.
Register now, the number of places is limited !
If you register via the Meetup platform, you can see who else is going (including photograph and other details people want to share), as well as discover other interesting metups in your region, based on your profile.
20.30h
Discussion, Questions and Answers
Networking opportunity with finger food and drinks, offered by I.T. Works and friendly sponsors which will be mentioned and thanked immensely
Of course you can also register via our web site.
Presentations will be available on slideshare after the meetup.
SPEAKERS »
REGISTER »
Questions about this ? Interested but you can't attend ? Send us an email !