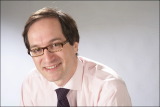 Business/IT Alignment in de Praktijk
---
Beter alignment door betere communicatie, een flexibelere architectuur, meer governance en een aangepaste organisatie
25 October 2007 (14-21)
Locatie:
Sofitel Diegem
(Diegem near Brussels (Belgium))
Gepresenteerd
in het Nederlands
door
Prijs:
540 EUR
(excl. 21% BTW)
AGENDA »
SPREKERS » This event is history, please check out the List of Upcoming Seminars, or send us an email
Check out our related in-house workshops:
Volledig Programma:
13.30u - 14.00u
Registratie en ontvangst van de deelnemers met koffie/thee en croissants
14.00u - 14.40u
Inleiding: Alignment in historisch perspektief
10 jaar na het artikel van Henderson en Venkatraman: waar staan we vandaag ?
IT'ers klinken alsof ze van Mars komen, en de Business vindt dat ze daar hadden moeten blijven: waarom is IT nog altijd niet gealigneerd met de Business (en omgekeerd) ?
Hoe zijn we hier beland ? Hebben we dit wel verdiend ?
De impact van het artikel "IT Doesn't Matter" van Nicholas Carr
De huidige context in de business (die roept om een agile, adaptive, flexible, on-demand, ... organisatie) en ICT (die worstelt met legacy, integratie, imago, cost pressure, outsourcing, job protection, ...)
Evolutie van het rollenpatroon Business vs. IT, en van de relatie tussen Business en IT
14.40u - 15.20u
Strategisch Alignment tussen Business en IT
Is IT een aanwinst of een handicap ?
Enkele modellen voor strategisch IT alignment:

Henderson & Venkatraman
De Gartner positionering van alignment
Nolan & McFarlan

McKinsey over Alignment: het herdenken van IT strategie
Waar bent u in uw alignment: bent u een butler, een grinder, een team player of een entrepreneur ?
Modelleren van alignment: BISL (Business Information Service Library)
Wat komt er na alignment ? Synchronisatie ? Convergentie ?
15.20u - 16.00u
De Relatie tussen Alignment en Governance
De rol van Governance in IT
Verschillende visies op alignment: van Dr. Peter Weill tot het IT Governance Institute
IT Governance vs IT Management
Governance processen, modellen en metrics zoals bv. ITIL en CobiT
Governance structuren & bodies opzetten
Alles is management: project management, process management, programme managenent, change management. Maar hoe kunnen we dit beter beheren ?
Hoe betrekt u de business bij governance mechanismen ?
Hoe doet u aan 'IT Oversight' ?
Hoe bouw je governance om in trust ?
16.00u - 16.30u
Koffie/Thee
16.30u - 17.15u
De Organisatorische Aspecten van Alignment
Hoe evolueert de samenstelling en de organisatie van een IT organisatie ? Welke types zien we vandaag ?
De rol van de CIO en het verschil tussen een CIO en een IT Manager: wat zijn hun rollen, profielen, achtergrond en verplichtingen ?
Welke rol speelt alignment in de budgetteringscyclus ?
Alignment als een organisatorische verandering
Waar past IT precies in de organisatie ?
Moeten we in IT de 'supply' side splitsen van de 'demand' side ?
Hoe bouw je een 'business smart' IT organisatie ?
Welke skills en competenties zijn er nodig in die nieuwe IT organisatie, en waar haal je die ?
17.15u - 18.00u
De Communicatie- en Partnership-Aspecten van Alignment
Hoe over IT te communiceren: duidelijkheid, eenvoud en transparantie
Verklaren van de IT strategie aan business mensen
Begrijpen van de Business strategie in een IT context
Bouwen van verstaanbare business cases
Taal en vertaling: meestal 'Lost in translation ?' of 'groeien naar een gemeenschappelijke woordenschat' ?
Van 'communicatie over IT' naar 'marketing van IT'
Visibiliteit, imago-opbouw en branding van IT
Het concept 'Partnership' in Business/IT Alignment
19.15u - 20.00u
Beter Alignment via Enterprise Architectuur
Architectuur als core instrument voor IT om Business noden in te vullen
Hoe introduceer je het concept architectuur in uw organisatie ?
Hoe maak je architectuur bespreekbaar ? "The CEO should be the key architect", maar hoe kom je daar ?
Architectuurmodellen: business architectuur, proces architectuur, informatie architectuur, infrastructuur architectuur
Architectuur en agility
Rol van de architect, alignment intern binnen IT qua architectuur
Impact van architectuur op het alignment proces, en op alignment in het algemeen
Business benefits van architectuur, en hoe vertaal je dat ?
20.00u - 20.45u
Alignment in de Praktijk: hoe pak je dit nu aan ?
Allemaal goed en wel, maar hoe begin je er aan ?
Naar een 'new deal' tussen Business en IT

Openen van de dialoog, initiatie van een relatie
Opbouwen van een momentum voor Alignment
Alignment als een cultural change programma
Alignment als een organisational change
Alignment als een attitude shift

Hoe bouw je een alignment charter, en hoe vind je de juiste executive sponsor(s) ?
New deal, nieuwe instrumenten: relationship building, seminars, workshops, exchanges, immersion
Het zetten van realistische alignment targets en alignment milestones
Alignment en outsourcing: is alignment de voorbode voor outsourcing, of net de remedie ertegen ?
Alignment task forces: rollen, structuur en effectiviteit
De business betrekken bij Alignment: de grootste uitdaging van IT vandaag
Waar bent u vandaag in het IT Alignment Maturity Model ?
20.45u
Afsluitende Discussie, Conclusies & Samenvatting
21.00u
Einde van dit seminar
---
Interessante Literatuur over dit Onderwerp:
SPREKERS »
Vragen hierover ? Geïnteresseerd maar u kan niet deelnemen ? Stuur ons een email.