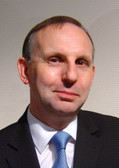 Your Corporate Strategy for IT
---
Chris Potts presents a framework for deeply integrating IT with corporate and business strategies
27-28 April 2010 (14-21h)
Location:
Pullman Diegem
(Diegem)
Presented
in English
by
Price:
1350 EUR
(excl. 21% VAT)
AGENDA »
SPEAKERS »
Our events before the 1st of May are postponed, events after the 1st of May are still planned. However, if we have to cancel an event due to corona, you can reschedule to a future event. This event is history, please check out the List of Upcoming Seminars, or send us an email
Check out our related open workshops:
Check out our related in-house workshops:
Full Programme:
13.30h - 14.00h
Registration, coffee/tea and croissants
13.30h
Registration (only first day)
The following topics are spread over 2 days:
Day 1: Context and Strategy
14.00h
Start of seminar day 1
Presented by Chris Potts, who specialises in investing in change, exploiting IT, and the destiny of the CIO


World-renowned corporate strategist, award-winning speaker and thought-provoking writer
IT market watch: is this the end of "IT Strategy" ?

Strategic inflection points in the IT market
The four generations of Corporate Strategy for IT

Case study

Introduction and background
The CIO's strategic promise

The IT value chain

Beyond Porter: integrating IT core competencies with primary business activities
Why the business-IT gap is a myth
The Strategic Integration Framework for IT

The Corporate Strategy for IT

Rapidly formulating a strategy that is meaningful and memorable
One-page strategies: Promise, Principles and Tactics
Maximising the strategy's contribution and influence

Integrating IT with corporate and business strategies

Why strategic integration = paradox management
Exploring some fundamentals of corporate strategy
Strategic focus; virtual company and core competencies; financial structure
21.00h
End of seminar day 1
14.00h
Start of seminar day 2
Don't talk about "IT costs",
talk about "investments in business change"
Investing in business change and IT

Diagnosing your organisation's investment culture
Inverted investment plans
Transforming IT budgets into a business value portfolio

Using true Enterprise Architecture to drive business innovation

True Enterprise Architectures
How to drive business innovation
Architecting Enterprise

"Expert IT Customer" management model

The IT customer's performance dashboard
Organisation design, investment process, accountabilities and governance
Innovative operating models for IT

Sourcing strategy

The IT-related competencies you cannot outsource
Optimising the value, cost and risk of your supplier portfolio

IT market watch revisited

Turning research into value-adding tactics
The ultimate destiny of the CIO
21.00h
End of this two-day seminar
SPEAKERS »
Questions about this ? Interested but you can't attend ? Send us an email !