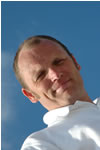 Pragmatisch Ontwikkelen met .NET
---
Best Practices, Patterns en Software-Architectuur-Principes voor .NET
18 December 2008 (14-21u)
Locatie:
Pullman Diegem
(Diegem)
Gepresenteerd
in het Nederlands
door
Prijs:
590 EUR
(excl. 21% BTW)
AGENDA »
SPREKERS » This event is history, please check out the List of Upcoming Seminars, or send us an email
Check out our related in-house workshops:
Volledig Programma:
13.30h - 14.00h
Registratie en ontvangst van de deelnemers met koffie/thee
14.00h
Begin van dit seminarie
1. Introductie: Denken in applicatie-architecturen
Kennismaken met meerlaagse (multi-tier) applicatie-architecturen
Beschamende voorbeelden van verkeerde software architecturen
Waarom is een goede software architectuur cruciaal in projecten
Welke lagen heb ik nodig in mijn applicaties ?
Wat gebeurt er in een presentation layer nodig ?
Wanneer introduceer ik een process layer ?
Bedrijfslogica in de domain layer
Het ontsluiten van gegevens en servicesin de data access layer
2. Software-architectuur: Het opzetten en gebruiken van frameworks
Heb ik frameworks nodig in mijn project?
Welk frameworks zijn er allemaal beschikbaar in .NET ?
Hoe zet ik mijn software architectuur op ?
Toepassingen en varianten van het layer supertype pattern
Onafhankelijkheid creëren via het bridge pattern
Theorie en praktijk van dependency injection
3. User interface: Effectief ontwikkelen van de user interface
Wat is nu eigenlijk een model-view-controller (MVC) ?
Hoe werkt Microsoft's ASP.NET MVC Framework ?
Domeinobjecten en de user interface: binding en persisting
Voor- en nadelen van record sets
Een snel alternatief: een pragmatische data binding architecture
Een korte introductie tot ASP.NET (Ajax) en Silverlight / WPF
4. Use cases: Realiseren van use cases in tasks
Use cases modelleren op verschillende niveau's
Smart use cases als eenheid van werk
Hoe gebruik ik smart use cases in mijn software architectuur ?
Use cases implementeren met een model-view-controller
Introductie van het template method pattern en het task pattern
De process layer. Hoe maak ik use cases herbruikbaar ?
Use cases faciliteren met een task manager
5. Bedrijfslogica: Bouwen met factories, domeinobjecten en bedrijfsregels
Patronen voor het realiseren van domeinobjecten: domain model en table module
Do's en don'ts van domain object factories en repositories
Pragmatisch modelleren van domeinobjecten, hun relaties en hun properties
Werken met verschillende property types, zoals nullable types en value objects
Gebruiken van referenties, zoals enumerations en het descriptor pattern
Een pragmatisch patroon voor referenties: smart reference
Bedrijfsregels valideren via een validation manager en attributes
6. Data en services: Patronen voor het ontsluiten van de back-end
Het ontsluiten van data via een table gateway
Onafhankelijk van uw database implementeren van een data manager
Hoe omgaan met de internal state van uw domeinobjecten ?
Hoe werkt nHibernate? Een overzicht en demo
Queries onafhankelijk realiseren via het query pattern
Een korte introductie van een service gateway
7. Next steps: Model driven architecture en domain specific languages
Onmisbare tools in .NET: Resharper en NDepend
Een kort overzicht van het Accelerated Delivery Platform (ADP)
Pragmatisch modelleren in UML
Korte introductie van model driven development (MDD)
Korte introductie in domain specific languages (DSL's)
Wanneer modelleer ik in UML, wanneer in een DSL ?
Een applicatie realiseren in 10 minuten. Demo
8. Round up
21.00u
Einde van dit seminarie
SPREKERS »
Vragen hierover ? Geïnteresseerd maar u kan niet deelnemen ? Stuur ons een email.