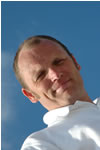 Pragmatisch Ontwikkelen met .NET
---
Best Practices, Patterns en principes in .NET
15 September 2004 (14-21)
Locatie:
Business Faculty Brussel
(Neder-over-Heembeek)
Gepresenteerd
in het Nederlands
door
Prijs:
480 EUR
(excl. 21% BTW)
AGENDA »
SPREKERS » This event is history, please check out the List of Upcoming Seminars, or send us an email
Check out our related in-house workshops:
Volledig Programma:
13.30h - 14.00h
Registratie en ontvangst van de deelnemers met koffie/thee
14.00h
Begin van dit seminarie
1. Requirements en use cases
Modelleren met UML.
Wat zijn use cases?
Hoe stel ik use cases op?
Use cases als eenheid van werk in projecten
2. Applicatiearchitectuur
N-tier applicatiearchitecturen.
Een voorbeeld n-tier applicatiearchitectuur, aandacht voor

De user interface.
Use cases en tasks. Hoe realiseer ik use cases?
Business classes en factories. Hoe organiseer ik mijn bedrijfslogica?
Data classes en databases. Hoe onsluit ik de database?

Stappenplannen en scenario's voor een applicatiearchitectuur in .NET
3. Effectief ontwikkelen van de user interface
Hoe ontwikkel ik generieke UserControls? Generieke menu's. Singles en Lists.
Hoe vermijd ik URL's in mijn code? Het gebruiken van page controllers.
Request routeren met het router pattern.
Hoe bind ik DataSets pragmatisch aan Controls en DataGrids? Het plugin patroon.
Hoe vind ik Controls op Pages of UserControls? Het visitor patroon.
Hoe stijl ik mijn Pages zonder coderen? Dynamisch opmaken met stylesheets.
4. Use cases realiseren
Application controllers. Use cases effectief ontwikkelen als tasks.
Wat is het task pattern? Het template method patroon.
Wat zijn de verantwoordelijkheden van tasks?
Kan ik mijn use cases hergebruiken? Task factories en generieke tasks.
5. Business classes
Waar laat ik mijn bedrijfslogica? Een introductie in business classes.
Wat zijn de vigerende patronen voor het ontwikkelen van business classes?
Domain model en table module.
Het SMART factory pattern. Effectieve business classes.
Static factories en business classes. Hoe werken ze samen? Template method revisited.
Hoe komen business classes aan hun gegevens? Het identity pattern.
6. Data classes en de database
DataSets. Transportmiddel voor data.
Hoe genereer ik mijn primary keys? Object identifiers, mechanismen en Guid's.
Zinvolle uitbreidingen van datasets. DataTables, Dataviews en Datarows.
Hoe realiseer ik data classes? Welke verantwoordelijkheden kennen data classes?
Het Query pattern. Een utility voor SQL statements.
Het StoredProcedure pattern. Een utility voor stored procedures.
Hoe maak ik dynamisch verbinding met de databases.
Kan ik updates uitvoeren zonder code te ontwikkelen?
7. Namespaces organiseren
Hoe verhouden mijn applicatiearchitectuur en mijn namespaces zich tot elkaar?
Namespaces en hun afhankelijkheden.
Toepasbare metrics voor het organiseren van namespaces.
Hoe vermijd ik circulaire afhankelijkheden tussen namespaces?
8. Afsluiting en samenvatting
21.00u
Einde van dit seminarie
SPREKERS »
Vragen hierover ? Geïnteresseerd maar u kan niet deelnemen ? Stuur ons een email.