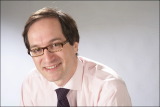 Enterprise Content Management en Portals
---
Concepten, technologie en tools voor de presentatie en het beheer van documenten en (Web) content.
23 April 2008 (14-21)
Locatie:
Pullman Diegem
(Diegem)
Gepresenteerd
in het Nederlands
door
Prijs:
590 EUR
(excl. 21% BTW)
AGENDA »
SPREKERS » This event is history, please check out the List of Upcoming Seminars, or send us an email
Check out our related in-house workshops:
Volledig Programma:
13.30u - 14.00u
Registratie en ontvangst van de deelnemers met koffie/thee
14.00u-15.30u
Enterprise Portals
Wat zijn typische Enterprise Portal toepassingen in een bedrijf ?
Enterprise Architectuur: de plaats van een portal naast ERP, CRM, Business Intelligence en EAI
Portals classificatie: het verschil tussen WORK-portals en VIEW-portals
Portals en content management: hoe kan het huwelijk slagen ?
Onderliggende technologie van portals
Portals en applicatie-ontwikkeling: hoe bouw ik apps voor een portal ?
Portals en ROI: brengen portals iets op? Is er een portal business case ?
Ontsluiting van legacy-applicaties via portals
Portal analytics: hoe meet je de performantie van een portal ?
15.30u-16.00u
Koffie en Informatiemarkt
16.00u-17.00u
Enterprise Content Management
Schetsen van Enterprise Content Management als integratie van traditioneel document management, web content management, digital asset management en document component management
Hoe pakt u een Enterprise Content Management project aan?
Archivering en retrieval
Collaborative authoring en collaboration
Single sourcing en hergebruik van content
Publiceren naar verschillende kanalen
Workflow
Versioning
Search & retrieval
Single sourcing en hergebruik van content
Onderliggende technologieën van Enterpise Content Management
Enterprise Content Management gieten in een portalarchitectuur
Beter kiezen voor een ECM oplossing die alles in-the-box heeft, of toch kiezen voor aparte "best-of-breed" Web en Document management systemen ?
17.00u-17.45u
Fasering van een Project
Scope bepalen van een Content Management/Document Management/Portal project
Analyse van de behoeften: hoe kunnen de content management en portal requirements in kaart gebracht worden
Lastenboek: hoe bouw ik een lastenboek voor content management, of voor een portal ? Wat zit er in ?
Tendering: hoe doe ik de selectieprocedure voor leveranciers en integrators ?
Implementatie: de do's en dont's van het implementeren van content management systemen en portals
Governance: hoe zorg ik voor de juiste invulling van organisatie en processen om portals en content management systemen te laten werken, ook na de oplevering ?
19.00u-20.30u
De Markt voor Portals en Content Management: een Overzicht
Portal markt evolutie

Een overzicht van de belangrijkste spelers op de markt, hun sterkten en zwaktes

CM markt evolutie

Een overzicht van de belangrijkste spelers op de markt, hun sterkten en zwaktes op het gebied van:

Document Management (DM)
Web Content Management (WCM)
Enterprise Content Management (ECM)
Smart Enterprise Suites (SES)

The big five spelers op de markt:

Microsoft
IBM (+ FileNet)
EMC (+ Documentum)
Oracle (+ Stellent)
OpenText (+ Hummingbird)

Open Source Oplossingen: hoe ver komt men met Wiki's, Blogs, JetSpeed en veel andere 'gratis' oplossingen ?
Selectie van leverancier - afwegen van de juiste keuzes

nichemarkten (e.g. juridisch) en nicheproducten
interface producten en content bridges (e.g. Venetica)

Integratie van software in een coherent geheel
20.30u-20.45u
Samenvatting en praktische richtlijnen
Kosten en baten
Projectmanagement
Cases
Levenscyclus van content, informatie & portalprojecten
20.45u-21.00u
Conclusies en afsluiting van de dag
SPREKERS »
Vragen hierover ? Geïnteresseerd maar u kan niet deelnemen ? Stuur ons een email.