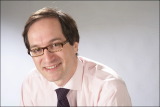 Enterprise Portals
---
A personalized and user-friendly interface that centralizes information, applications and processes to do your job better and more productively.
17 February 2005 (14-21)
Location:
Sofitel Diegem
(Diegem near Brussels (Belgium))
Presented
in English
by
Price:
480 EUR
(excl. 21% VAT)
AGENDA »
SPEAKERS » This event is history, please check out the List of Upcoming Seminars, or send us an email
Check out our related in-house workshops:
Full Programme:
13.30h-14.00h
Registration, Coffee/Tea and Croissants
14.00h-14.45h
Introduction: what are enterprise portals and why do you need them ?
What is an enterprise portal ?
Where do they come from ?
From Intranet to enterprise portal
A classification of portals - different portals for different categories of users ?
Portals and content management
Typical user requirements
The ROI of portals
14.45h-15.30h
Underlying Technologies for Enterprise Portals
The portal presentation layer: Web interface, mobile access, ...
Personalisation techniques
The taxonomy challenge
The portal directory
Portal content management
Application servers
Search tools and semantic engines
Security: access control, authentication and single sign-on
Portal adapters for extending functionality and integrating applications: portlets, Web parts, gadgets, iViews, ...
Web-based collaboration
Reliability and availability issues
Selecting the right tool for the job
16.00h-16.30h
Collaboration and Workflow: Processes within Portals
(Peter Hinssen)
Workflow and collaboration as a portal component, and the possible resulting synergies
Web-based collaboration solutions (such as co-editing documents and projects) via a portal
The "process portal": codifying your best practices into business processes via the portal
Questions to ask the portal framework vendor on "process automation".
16.30h-17.30h
Market Overview
(Peter Hinssen)
Market evolution
Specialized portal players: Citrix NFuse, Hummingbird, Plumtree, Portal Software, Viador, ...
What the big software players are offering today:

IBM WebSphere Portal Server
SAP Portals
Microsoft SharePoint Portal Server
BEA WebLogic Portal
Oracle9iAS
Sun ONE Portal Server
Computer Associates CleverPath
Sybase Enterprise Portal (EP)
Novell Portal Services
...

Other portal players like Broadvision, Vignette, ...
17.30h-18.15h
Case studies
(Peter Hinssen)
Several interesting case studies have been presented at the 8 previous sessions of this portals seminar. What lessons can be learnt? Are there any portal project patterns? Is there a boilerplate business case for portals? What technologies and portal applications are typical for what kind of company?
We will discuss succesful portal projects realised with SharePoint, SAP, WebSphere and BEA.
19.15h-20.00h
Main Case Study: Belgacom
(Bart Van Vlierberghe, Project Manager)
Business case
Project overview
Tool selection for the Enterprise Portal and the underlying Content Management infrastructure
Portal-wide search: tool selection and implementation
Lessons learned and plans for the future

20.00h-20.45h
How to Implement an Enterprise Portal, and how to Make it Successful ?
(Peter Hinssen)
What's involved in building an enterprise portal ?
The impact on application development
Implementation strategy
Customizing a portal to meet your specific business needs
Maintaining an enterprise portal
20.45h-21.00h
Roundup of this seminar, Conclusions & Summary, Final Questions and Answers
21.00h
End of this seminar
SPEAKERS »
Questions about this ? Interested but you can't attend ? Send us an email !