Our annual look into the future of IT, with the best speakers, best topics and best crowd
Price: 720 EUR (excl. 21% VAT)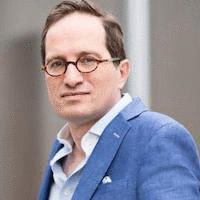 Learning Objectives:
What is the purpose of this unique, exclusive event ?
On the 20th of September, we organise the annual event "The Future of IT". During this special and unique event, we have selected various thought leaders in digital business and IT to talk about emerging trends, technologies, tools, techniques, and give you plenty of advice, tips and tricks to tackle the future.
Gathering several thought leaders like Peter Hinssen, Jan Henderyckx and Ron Tolido
We are still finalizing the full programme of this special event, but we can already confirm the cooperation of:
Peter Hinssen: "Disruption and IT: what is the Day After Tomorrow for IT ?",
Jan Henderyckx: "The Future is Data-centric: how to Unlock the Potential of Compliant Value Creation",
Ron Tolido: "Power to the People: the DIY Revolution will be Live" (brand new presentation),
Paul Delbar from Nallian: "How blockchain can enhance data sharing and collaboration in air cargo communities",
Florian Goossens from radix.ai: "AI Essentials",
Dimitri Lambrecht from Fagron: "Humanized Health Care"
Various others who still have to confirm
At 19h00, we close with a presentation and discussion on the regulation of artificial intelligence and robotics by top lawyer and top speaker Patrick Van Eecke (DLA Piper).
If you are a business or an IT decision maker who is interested in the future of IT, the IT profession and digital business in general, don't miss this unique and special event on the 20th of September 2018.
If you are interested in sponsoring this event or cooperating with us to make this event even bigger, please contact us.
Now, check out the full programme of this event ...
And find out who presents this training ...
Questions about this ? Interested but you can't attend ? Send us an email !