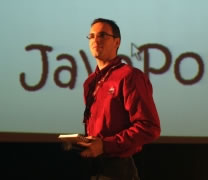 Java EE 5 Technology Overview
---
A complete technology overview of the Java Platform, Enterprise Edition (Java EE) 5
25-26 September 2007 (14-21)
Location:
Sofitel Diegem
(Diegem near Brussels (Belgium))
Presented
in English
by
Price:
980 EUR
(excl. 21% VAT)
AGENDA »
SPEAKERS » This event is history, please check out the List of Upcoming Seminars, or send us an email
Check out our related in-house workshops:
Full Programme:
DAY 1: An Executive Overview of Java EE 5
13.30h - 14.00h
Registration, coffee/tea and croissants
14.00h - 14.30h
Java EE Status & Roadmap
14.30h - 15.30h
What was wrong with J2EE, what is good about the new Java EE 5 ?
What were the main drivers for the change ?
What is Aspect-Oriented Programming (AOP), dependency injection, ease of development, ... ?
The need to improve productivity
The move from thick clients to thin clients and to AJAX
How can you position Java EE 5 vs. J2EE vs Spring/Hibernate/Struts ?
The past, present & future releases of Java EE
15.30h - 16.00h
Coffee/Tea and Refreshments
16.00h - 17.45h
Java EE 5 Today
An Introduction to:

Web Services
Dependency Injection
EJB and JPA
From JSP and servlets to JSF, JavaServer Faces (JSF)
Packaging
19.00h - 19.45h
Java EE 5 Tomorrow
SOA adoption in Java EE
SCA: the Service Component Architecture
Building composite applications using SCA/JBI and BPEL
19.45h - 20.45h
Java Frameworks and Java EE Extensions
Web Beans and Seam
What is happening with the Spring framework ?
The effect of Ruby on Rails (and of scripting in general) on the Java community
20.45h - 21.00h
Wrap-up & End of Day 1
DAY 2: Technical Overview of Java EE 5
14.00h - 14.15h
Java EE 5: the Global Picture
Major novelties in Java EE 5
New and updated API's in Java EE 5
14.15h - 15.30h
Java EE 5 Novelties in the Presentation Layer
JSP & servlets
JavaServer Faces abstraction layer
Do's & dont's in JSF
Tools for JSF
The impact of AJAX for building Rich Internet Applications
What about Swing ?
15.30h - 16.00h
Coffee/Tea and Refreshments
16.00h - 17.30h
Service Layer
Business layer and architecture
Major upgrades in JEE5 for supporting Web services and SOA
JAX-RPC, JAX-B, JAX-WS
Going to Web services-based applications
The role of an ESB (Enterprise Service Bus)
19.00h - 20.30h
Persistence Layer
POJO's, annotation & Dependency Injection
JPA (Java Persistency API)
Hibernate vs. EJB 3.0
EJB 3.0 overview
20.30h - 21.00h
Wrap-up & End of Day 2
21.00h
End of this seminar
SPEAKERS »
Questions about this ? Interested but you can't attend ? Send us an email !