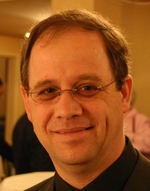 Kennismanagement in een Microsoft omgeving
---
Optimaliseer het gebruik van SharePoint, Office, ... voor collaboration, kenniswerk en social networking in uw bedrijf !
26 April 2012 (14-18u30)
Locatie:
Golden Tulip Brussels Airport
(Diegem)
Gepresenteerd
in het Nederlands
door
Prijs:
420 EUR
(excl. 21% BTW)
Registreer NU »
AGENDA »
SPREKERS » This event is history, please check out the List of Upcoming Seminars, or send us an email
Check out our related open workshops:
Check out our related in-house workshops:
Volledig Programma:
13.30u-14.00u
Registratie met koffie/thee en croissants + Networking opportuniteit
14.00u-15.00u
KM Principes, voorbeelden en bouwstenen
Wat is kennismanagement (KM) ?
Eenvoudige vragenlijsten om praktisch te beseffen waar KM over gaat
Expliciete en impliciete (tacit) kennis
Hoe maak je teksten met een goede kwaliteit?
De groei van kennis: van vertellen naar tellen
Menselijke groepen, netwerken en communities: het middelpunt van KM
15.00u - 15.15u
Korte pauze met koffie/thee, versnaperingen en mogelijkheid tot networking
15.15u - 16.45u
Microsoft Tools voor KM: Wat, Waarvoor en Hoe ?
(Windows) SharePoint (Services 2007) / SharePoint Foundation 2010 voor uw groep of community

Basisfuncties: documentbibliotheken, webpagina's, blog, wiki, lijsten met hyperlinks, taken, issues, adressen, discussiefora, ...; toepassingen voor collaboration onder kenniswerkers
De opbouw van sites en subsites en web parts
Illustraties in een KM-context: kennisondersteuning on the job, kennisbanken (met documenten en wiki's), opleiding, samen leren en ontdekken in Communities of Practice, de Kenniswinkel, kennisnieuws
Onderscheid registraties van documentatie
Hoe vind ik iets? Metadata, tags, taxonomy & folksonomy, navigeren, filteren en zoeken.
Content Types en Templates om vindbaarheid, uitwisselbaarheid, efficiëntie en standaardisatie te bevorderen
Integratie met Outlook, social media en Office
Op de hoogte blijven van veranderingen: Alarmen en RSS
Workflows

Microsoft Search Server 2008/2010 Express: de gratis zoekmotor voor de KMO

Search en searchscopes om gericht te zoeken op netwerkshares, SharePoint e.d.
SharePoint via Microsoft Online

SharePoint Server voor een grotere organisatie

Content management
People Search
Persoonlijke sites
Personalisatie op basis van rollen
Nieuw in 2010: social networking en persoonlijk Kennismanagement
Toegang tot Business Intelligence via Excel Services
Intranet en extranet gebaseerd op SharePoint
Nieuw in 2010: FAST search voor gecombineerd zoeken in gestructureerde en ongestructureerde gegevens

MS OneNote: hou uw nota's en studies bij, en werk (bijna) papierloos
Office Communicator en Communications Server

Presence information en instant messaging
Leren on line vergaderen

De betere hardware voor de kenniswerker

De Tablet PC, want je maakt toch schetsen ?
Uw Smartphone met Windows Mobile en OneNote Mobile

SharePoint in de cloud
De 3C's van KM: Content, Collaboratie en Communicatie
Het belang van functionele architectuur, geïllustreerd met toepassingen voor verschillende aspecten van kenniswerk
Aanpakken van e-mail en informatieoverlast
16.45u - 17.00u
Korte pauze met koffie/thee, versnaperingen en mogelijkheid tot networking
17.00u - 18.15u
Kennismanagement
KM Processen

De drie kernprocessen van kennismanagement: kennisgebruik, kennisontwikkeling en kennisinvestering
De plaats van elke SharePoint functie in de KM kernprocessen

Organisatie, Cultuur & Governance

Netwerk van KM adviseurs
De cruciale rol van de lijnmanagers in KM
De functie Kennismanagement
Kennis en Macht
Cultuur en goede gewoontes van managers
Governance: wie is waarvoor verantwoordelijk? Over kennismanagers, kennissecretarissen, urbanisten en architecten, en de verantwoordelijkheid van de managers.

Hoe (door)starten? Maturiteit

Starten via acute kennisproblemen en/of top down
Hoe groeien vanuit een chaos van systemen?
Maturiteitsmodel voor kenniswerk
Maturiteit van gebruikers
Welk soort projectmanagement?

Investeringen, Metingen, Kosten en Baten
18.15-18.30u
Vragen, samenvatting en besluit
18.30-19.30u
Mogelijkheid om na te praten bij een hapje en drankje, aangeboden door I.T. Works
SPREKERS »
REGISTER »
Vragen hierover ? Geïnteresseerd maar u kan niet deelnemen ? Stuur ons een email.