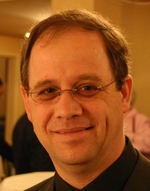 Kennismanagement in een Microsoft omgeving
---
Optimaliseer het gebruik van SharePoint, Office, ... voor collaboration, kenniswerk en social networking in uw bedrijf !
25 October 2012 (14-18u30)
Locatie:
Golden Tulip Brussels Airport
(Diegem)
Gepresenteerd
in het Nederlands
door
Prijs:
420 EUR
(excl. 21% BTW)
Registreer NU »
AGENDA »
SPREKERS » This event is history, please check out the List of Upcoming Seminars, or send us an email
Check out our related open workshops:
Check out our related in-house workshops:
Volledig Programma:
13.30u-14.00u
Registratie met koffie/thee en croissants + Networking opportuniteit
14.00u-15.00u
KM Principes, voorbeelden en bouwstenen
Wat is kennismanagement (KM) ? Kenmerken van kenniswerk.
Eenvoudige vragenlijsten om praktisch te beseffen waar KM over gaat
Data, informatie en kennis; registraties vs. documentatie
Expliciete en impliciete (tacit) kennis
Hoe maak je teksten met een goede kwaliteit?
De groei van kennis: van vertellen naar tellen
Kenniswinkels en virtuele bureaus
Menselijke groepen, netwerken en communities: het middelpunt van KM
15.00u - 15.15u
Korte pauze met koffie/thee, versnaperingen en mogelijkheid tot networking
15.15u - 16.45u
Microsoft Tools voor KM: Wat, Waarvoor en Hoe ?
Sharepoint

Reële case over content, communication & Collaboration incl. governance ?
4C-model
Totaaldemo in een KM-context: kennisondersteuning on the job, kennisbanken (met documenten en wikiís), opleiding, samen leren en ontdekken in Communities of Practice, de Kenniswinkel, kennisnieuws
Hoe vind ik iets? Metadata, tags, taxonomy & folksonomy, navigeren, filteren en zoeken.
Integratie met Outlook en Office
Social media functies en persoonlijk kennismanagement; Yammer
Aanpakken van e-mail en informatieoverlast
Intranet en extranet gebaseerd op SharePoint
Groeien uit de chaos via de search engine

Lync

Presence information en instant messaging
Leren on line vergaderen

Tablets: iPad en Surface
16.45u - 17.00u
Korte pauze met koffie/thee, versnaperingen en mogelijkheid tot networking
17.00u - 18.15u
Kennismanagement
KM Processen

De drie kernprocessen van kennismanagement: kennisgebruik, kennisontwikkeling en kennisinvestering
De plaats van elke SharePoint functie in de KM kernprocessen

Organisatie, Cultuur & Governance

Netwerk van KM ambassadeurs
De cruciale rol van de lijnmanagers in KM
De functie Kennismanagement
Kennis en Macht
Cultuur en goede gewoontes van managers
Governance aan de business kant: wie is waarvoor verantwoordelijk? Over kennismanagers, kennissecretarissen, urbanisten en architecten, en de verantwoordelijkheid van de lijnmanagers.

Hoe (door)starten? Maturiteit

Starten via acute kennisproblemen en/of top down
Hoe groeien vanuit een chaos van systemen?
Maturiteitsmodel voor kenniswerk
Maturiteit van gebruikers
Welk soort projectmanagement?

Investeringen, Metingen, Kosten en Baten
18.15-18.30u
Vragen, samenvatting en besluit
18.30-19.30u
Mogelijkheid om na te praten bij een hapje en drankje, aangeboden door I.T. Works
SPREKERS »
REGISTER »
Vragen hierover ? Geïnteresseerd maar u kan niet deelnemen ? Stuur ons een email.