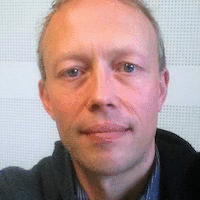 Leadership in een Agile Omgeving
---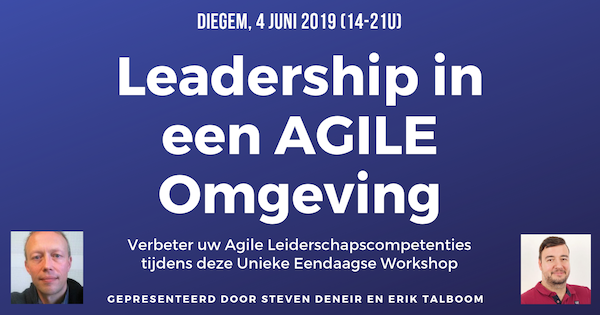 4 June 2019 (14-21u)
Location:
Parker Hotel
(Diegem)
Gepresenteerd
in het Nederlands
door
Steven Deneir en Erik Talboom
Prijs:
720 EUR
(excl. 21% BTW)
Registreer NU »
AGENDA »
SPREKERS » This event is history, please check out the List of Upcoming Seminars
Check out our related open workshops:
Check out our related in-house workshops:
Leerobjectieven:
Wat leert u tijdens deze workshop ?
Deze introductie tot Agile Leiderschap zal u bewuster maken van het belang en het gebruik van agile leiderschapsdenken, leiderschapsfocus en leiderschapsgedrag, en is een geweldige manier om je reis als Agile Leader te starten.
Deelnemers aan deze workshop zullen competenties in agile leiderschap bespreken en uitdiepen, wat hun effectiviteit als leider in een complexe en snel veranderende omgeving verhoogt. Deze workshop zoekt een balans tussen informatie delen, conversaties en samenwerking tussen de aanwezigen.
De link zal worden gemaakt naar frameworks zoals Management 3.0, LeSS (Large Scale Scrum), Certified Agile Leadership, en The Personal Responsibility Process™.
Voor wie is deze workshop bedoeld en waarom zou u eraan deelnemen ?
Deze workshop richt zich tot iedereen in een leiderschapspositie, gaande van Scrummasters, product owners, process owners, team leaders, line managers, project managers, programma managers, ... die één of meerdere van onderstaande topics beter wensen te begrijpen:
Wat Agile Leiderschap betekent en inhoudt
Hoe efficiënter werken mogelijk is midden in onzekerheid, complexiteit en snelle verandering
Hoe er meer creatieve oplossingen gevonden kunnen worden door meer zelfbewustzijn, een groeigerichte mindset en door het engageren van anderen
Hoe er meer waarde voor klanten en gebruikers gecreëerd kan worden door teams te aligneren en hen het nodige empowerment te geven
Hoe feedback en resultaten van experimenten te integreren in de manier van werken met elkaar
Hoe een stijl van samenwerken en continu verbeteren zorgt voor meer effectiviteit van de organisatie
Hoe veranderingen in anderen te katalyseren en organisatorische veranderingen te faciliteren
Vereisten om aan deze workshop deel te nemen
Er zijn geen absolute minimumvereisten
Wel is het aangeraden om het Agile Manifesto vooraf goed te hebben doorgenomen
Merk op dat dit geen workshop is die de rollen product owner of scrum master gaat toelichten. Deze workshop gaat over leiderschap in een agile omgeving, wat zowel van de product owner, de scrum master, het team en de organisatie errond verwacht wordt.
AGENDA »
SPREKERS »
REGISTER »