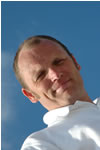 Microservices: How to Design, Develop and Deploy
---
Brandnew seminar about this important trend in software development
10 December 2015 (14-18h30)
Location:
Holiday Inn Airport
(Diegem)
Presented
in English
by
Sander Hoogendoorn
Price:
480 EUR
(excl. 21% VAT)
Register Now »
AGENDA »
SPEAKERS » This event is history, please check out the List of Upcoming Seminars, or send us an email
Check out our related open workshops:
Check out our related in-house workshops:
Full Programme:
13.30h - 14.00h
Registration, coffee/tea and networking opportunity
14.00h - 14.45h
An Introduction to Microservices
Pro's and cons of monolithic software
Some principles of service orientation
Definitions of microservices
Some principles of microservices
Promises of microservices
Challenges in microservices
14.45h - 15.30h
Microservice Architectures
Building a landscape of small applications and services
Micro-applications
Components and microservices
Examples of design patterns for microservices
Picking the best technology for every microservice
Polyglot persistence
15.30h - 15.45h
Short Break with Coffee/Tea and Refreshments
15.45h - 16.30h
How do Microservices Communicate with each other ?
Service interfaces
Setting up communication between services
Communication via REST
Patterns in communication
Services and transactions
16.30h - 17.15h
Designing Microservices
From business needs and features to microservices
Modeling services
Smart use cases
Mapping domain driven design to microservices
17.15h - 18.15h
Deploying Microservices and Project Organisation
The importance of the deployment pipeline
Setting up the deployment pipeline
Agile, Kanban and microservices
Microservices and DevOps
Do microservices change your project organization?
18.15h - 18.30h
Roundup, Summary and Conclusion
Some recommendations
Do microservices solve all challenges your IT department has ?
How to continue ?
18.30h
End of this seminar
SPEAKERS »
REGISTER »
Questions about this ? Interested but you can't attend ? Send us an email !