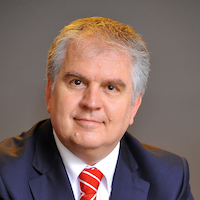 Standaarden, Technologie en Tools voor een SOA
---
Hoe bouwt en beheert u een SOA ?
16 March 2006 (14-21)
Location:
Sofitel Diegem
(Diegem near Brussels (Belgium))
Gepresenteerd
in het Nederlands
door
Prijs:
540 EUR
(excl. 21% BTW)
AGENDA »
SPREKERS » This event is history, please check out the List of Upcoming Seminars
Check out our related in-house workshops:
Volledig Programma:
13u30 - 14u00
Registratie met koffie/thee en croissants
1.
Inleiding Web services en SOA
Van componenten naar Web services en vervolgens naar services
XML als formaat voor gegevensuitwisseling
Wat zijn de voor- en nadelen van een SOA?
2.
Het aanroepen van services
Gegevensuitwisseling met SOAP
WSDL: de taal om interfaces te definiŽren
Bestaande standaarden voor transactiebeheer, zoals XA en DTP, schieten te kort
Nieuwe standaarden voor Web servicetransacties: BTP, WS-Transaction en WS-CAFS
Wat is een compensating transactie?
Het ontdekken van Web services met UDDI en WSIL
3.
Choreografie en orchestration van Web services
Automatiseren van business processen met BPEL
Andere talen voor orchestration, zoals IBM's WSFL, BPMI's BPML en Microsoft's XLANG
Wat is eigenlijk BPEL?
Overzicht van commercieel beschikbare BPEL-engines, waaronder die van CapeClear, Cordys, Fiorano, IBM, Microsoft, Oracle, PolarLake, SAP, SeeBeyond (Sun), Sonic Software en WebMethods
Een nieuwe standaard voor choreografie - WS-CDL
Het verschil tussen orchestration en choreografie
4.
De Enterprise Services Bus - een nieuwe generatie produkten voor integratie
Message queuing als transportmiddel
Het verschil tussen een klassiek EAI-produkt en een moderne ESB
Overzicht van de markt van ESB's, waaronder Axway, BEA Systems, CapeClear, Cordys, Fiorano, IBM, InterSystems, Magic, Microsoft, Oracle, PolarLake, SAP, SeeBeyond (Sun), Sonic Software, SpiritSoft en WebMethods
Adapters van Actional (recent overgenomen door Progress), DataDirect en iWay
Wat betekent SOA Governance: interface en versiebeheer, servicebeheer, monitoren, service level agreements en beveiliging
Overzicht van tools, waaronder Infravio, LogicLibrary en Systinet (recent overgenomen door Mercury)
6.
Distributed Services Management
Aspecten van services management: servicebeheer, monitoren, service level agreements en beveiliging
Gedistribueerd management voor auditing, logging en billing van Web services
Hoe werken Web services management tools?
Het specificeren van service level agreements
Implementeren van beveiliging via Web services management tools
Overzicht van tools voor Web services management, waaronder Actional WestBridge XML Message Server (recent overgenomen door Progress), AmberPoint Management Foundation, Avinon NetScenario, Blue Titan Network Director, CA Unicenter WSDM, HP/TalkingBlocks WS Management Suite, Infravio, Oracle Oblix en SOA Software
7.
Beveiliging van een SOA
Vele vormen van beveiliging, waaronder encryptie, authentificatie, authorisatie en firewalls
Het security framework van IBM en Microsoft
8.
Testen van de Service-Oriented Architecture
Verschillende vormen van testen
Wat is er speciaal aan het testen van een SOA?
Overzicht van tools, waaronder Empirix, MindReef, Parasoft en Optimyz
9.
Samenvatting en conclusies
De toekomst van de SOA
Totaaloverzicht van de stack met SOA-standaarden
21u00
Einde van dit seminar
SPREKERS »
Vragen hierover ? Geïnteresseerd maar u kan niet deelnemen ? Stuur ons een email.