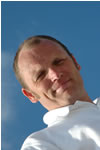 Nieuwe Trends in Software Development
---
Nieuwe trends, technieken en technologieen
24 November 2004 (14-21)
Locatie:
Sofitel Diegem
(Diegem near Brussels (Belgium))
Gepresenteerd
in het Nederlands
door
Prijs:
480 EUR
(excl. 21% BTW)
AGENDA »
SPREKERS » This event is history, please check out the List of Upcoming Seminars, or send us an email
Check out our related in-house workshops:
Volledig Programma:
13.30u - 14.00u
Registratie, Koffie/Thee en Croissants
14.00u
Start van dit seminar
14.00u-14.30u
Wat loopt er fout met applicatie-ontwikkeling?
Een paar software project slaag- en faalcijfers
Mythes over applicatie-ontwikkeling
Waarom mislukken projecten?
14.30u-14.45u
Application Lifecycle Management
Wat is dit nieuwe buzz-word?
Lifecycle? Welke lifecycle?
Hoe definiëren de marktspelers Application Lifecycle Management?
14.45u-15.30u
Nieuwe software ontwikkelmethodologieën: Extreme programming, DSDM en Smart
Recente "agile" ontwikkeltechnieken
Wat is agility? Wat is het "Agile manifesto"?
Waarin verschillen ze, en hoe kan je je projecten nu beter opleveren?
Hoe "agile" kan een organisatie worden?
Hoe "extreem" is extreme programming (XP) ?
Voordelen van en best practices in XP. Kan je XP (of delen ervan) gebruiken?
Waarin verschillen andere methodologieën als DSDM en Smart van XP ? Wat bieden ze meer?
15.30u-16.00u
Koffie/Thee en versnaperingen
16.00u-17.00u
Samenwerken in teams. Het implementeren van de agile best practices
De agile best practices.
Workshops.
Stand up meetings.
Andere manieren van communiceren in projecten.
Iteratief, incrementeel en interactief werken in projecten.
Integraal testen.
Test first design en unit testing.
Refactoring.
Hoe kan mijn organisatie gebruik maken van de agile best practices?
"Agile" projectplanning.
17.00u-17.30u
Requirements management
Requirements als sturing van het "agile" proces
Hoe gaan verschillende methodologieën om met requirements
Tools voor requirements management
Agile Requirements management
18.30u-19.15u
Modelling met UML 2.0
Wat is er nieuw in UML 2.0 ?
Wat is de motivatie achter nieuwe ontwikkelingen in UML ?
Typische valkuilen bij gebruik van UML
Pragmatisch gebruik van UML
19.15u-20.00u
OMG's Model Driven Architecture: waarvoor dient het?
Wat is MDA, is het nuttig voor mijn organisatie, wat is het verband met UML?
Kan ik nu eindelijk code genereren uit mijn ontwerp?
"The model is the system": klopt deze uitspraak van Ivar Jacobson ?
Het "Lucky Luke" Syndrome
20.00u-20.30u
.NET versus J2EE: stand van zaken
Wat is .NET? Wat is J2EE?
Wat zijn de verwachtingen voor .NET en J2EE ?
Hoe verhouden beide zich?
Wanneer gebruik ik J2EE en wanneer .NET ?
Wat beweegt er bij de tool vendors?
Hoe belangrijk wordt Eclipse?
20.30u-21.00u
Marktoverzicht
Wat doen de grote jongens: IBM/Rational, Borland, Compuware, Microsoft
Wat is er beschikbaar in open source?
21.00u
Einde van dit seminar
SPREKERS »
Vragen hierover ? Geïnteresseerd maar u kan niet deelnemen ? Stuur ons een email.