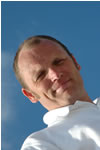 Schatten met Use Cases
---
Namiddagworkshop over plannen van softwareprojecten, vertrekkend van de functionele specificatie
18 April 2007 (14-18)
Locatie:
Sofitel Diegem
(Diegem near Brussels (Belgium))
Gepresenteerd
in het Nederlands
door
Prijs:
320 EUR
(excl. 21% BTW)
AGENDA »
SPREKERS » This event is history, please check out the List of Upcoming Seminars, or send us an email
Check out our related in-house workshops:
Volledig Programma:
De workshop begint om 14u en eindigt om 18u. Wij verwelkomen de deelnemers met koffie/thee vanaf 13u30.
Over het schatten van benodigde tijd bij het plannen van softwareprojecten
Wat maakt het schatten bij software development zo moeilijk?
Wanneer is een goede tijdsschatting het belangrijkst in een softwareproject?
(Introductie van het begrip: hiërarchie van onzekerheden)
Wat maakt een schattingstechniek bruikbaar?
Een paar schattingstechnieken vergeleken: Function point analysis, Use Cases, Smart Use Cases, bottom-up schattingstechnieken
Hoe bepalen schattingen het verder projectverloop?
Modelleren van Use Cases als hulpmiddel bij het schatten
Vastleggen van business requirements, processen en verschillende niveau's van Use Cases
Wat zijn Smart Use Cases?
Verschillen tussen klassieke Use Cases en Smart Use Cases
Richtlijnen voor het modelleren van Smart Use Cases
Omgaan met user interfaces, complexe business logica, service oriented architectures en model driven architecture
Schatten van tijd met Smart Use Cases
Het gewicht bepalen van Smart Use Cases
Bepalen van project velocity, gebaseerd op historische en industrie-data en op het projectverloop
Patronen bij het modelleren van Smart Use Cases: manage-select, references, login-logout.
Overzicht van terugkerende types Use Cases
In welks soort projecten is schatten met Smart Use Cases toepasbaar?
Plannen met Smart Use Cases
Hoe beperk ik de onzekerheden in een project met Smart Use Case schattingen
Voordelen van een iteratieve en agile projectaanpak
Project velocity bepalen bij iteratief software development
Hoe bepaal ik het eind-tijdstip van het ontwikkelproject?
Laat ik veranderingen toe, en laat ik ze toe tot laat in het project?
(Omgaan met "scope creep" met behulp van Smart Use Cases)
Voordelen van een continu schatten-en-meten.
Samenvatting en besluit
SPREKERS »
Vragen hierover ? Geïnteresseerd maar u kan niet deelnemen ? Stuur ons een email.