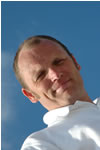 Pragmatisch Modelleren met UML 2.0
---
Zinvol gebruik van UML doorheen het software ontwikkelingsproces
19-20 June 2008 (10-18)
Locatie:
Crowne Plaza Antwerpen
(Antwerp, Belgium)
Gepresenteerd
in het Nederlands
door
Prijs:
1150 EUR
(excl. 21% BTW)
AGENDA »
SPREKERS » This event is history, please check out the List of Upcoming Seminars, or send us an email
Check out our related in-house workshops:
Volledig Programma:
Elke dag begint om 10 u. Wij verwelkomen de deelnemers met koffie/thee vanaf 9u30 en beide dagen eindigen rond 18u.
Gespreid over 2 dagen krijgt u:
1.Introductie
Een pragmatische modelleeraanpak voor systeemontwikkelprojecten.
Waarom modelleren in projecten?
Wat biedt UML?
Welk modelleertechnieken kent UML 2.1?
Biedt UML een volledig scala aan modelleertechnieken?
Een pragmatische modelleeraanpak voor projecten
Modelleren van bedrijfsproces tot werkende applicatie
2. Scope en bedrijfsprocessen
Starten met bedrijfsprocessen
Hoe stel ik de scope vast van mijn project?
Welk bedrijfsprocessen ondersteunt mijn nieuwe applicatie?
Hoe modelleer ik chronologische en hierarchische processen?
Elementaire bedrijfsprocessen
Hoe hanteer ik de OTOPOP (one time, one place, one person) richtlijnen?
De transitie van bedrijfsprocessen naar (smart) use cases
3. Smart use cases
Smart use cases als rode draad in een project
Verschillende niveau's van use cases
User goal level en sub-function level use cases
Hoe identificeer ik use cases in mijn project?
Actoren en use cases
Hoe modelleer ik use cases diagrammen?
Use cases beschrijven
Het formuleren van pre- en postcondities
Stappenplannen en scenario's
Hoe onderscheid ik verschillende typen smart use cases?
4. Modelleren en testen
Testbare use cases
Use case scenario's
Activity diagrammen modelleren
Hoe modelleer ik een activity diagram voor een use case?
Hoe kan ik testscenario's identificeren bij use cases?
Testgevallen beschrijven bij use cases
5. De user interface modelleren
Use cases en de user interface
De alternatieven: van post-it tot prototype
De nauwe relatie tussen use cases en de user interface
Hoe modelleer ik de user interface?
Het user interface diagram: een DSL die UML aanvult
Van user interface naar ontwerp
6. Het domeinmodel
Klassen, hun attributen en hun relaties
Hoe modelleer ik het bedrijfsdomein in klassendiagrammen?
Welke typen attributen modelleer ik?
Het modelleren van referentiedata
Wat zijn value objects?
Wanneer en hoe modelleer ik associaties, aggregaties en composities?
Wat zijn dependencies?
Generalisaties en specialisaties
Wat is het Liskov Substitution Principle en welk effect heeft dat?
Klassediagrammen en gegevensmodellering
7. Sequence diagrammen modelleren
Interactiediagrammen, patronen en applicatiearchitectuur
Een overzicht van de interactiediagrammen van UML 2.1
Wanneer en waarvoor gebruik ik een sequence diagram?
Het modelleren van een sequence diagram
Use cases uitwerken in een sequence diagram
Hoe modelleer ik mijn applicatiearchitectuur in sequence diagrammen?
Kan ik ontwerppatronen uitdrukken in sequence diagrammen?
8. Use cases en services
Modelleren in servicegeorienteerde architecturen
Hoe identificeer ik services?
Hoe passen services binnen mijn pragmatische aanpak?
Samenwerkende services modelleren in use cases en activity diagrammen
Samenwerkende services modelleren in sequence diagrammen
Services uitwerken in actoren en smart use cases
Use case stereotypes voor services
Modelleren in kleur
9.Modelleren in agile systeemontwikkelprojecten
Dealing with reality, not artifacts
Wat is agile software development?
Wat kenmerkt agile projecten?
Hoe past modelleren en UML in een agile project?
Smart use cases als unit of work
Een kort overzicht van tools voor agile modelleren
10. Model driven development
Bonus topic
Wat is model model driven development?
Van PIM naar PSM naar code
Is codegeneratie mogelijk op basis van UML?
UML versus DSL's
Demo
SPREKERS »
Vragen hierover ? Geïnteresseerd maar u kan niet deelnemen ? Stuur ons een email.