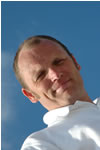 Pragmatic Modelling with UML and Smart Use Cases
---
How to translate software requirements in smart use cases and UML diagrams in a practical, pragmatic, productive and agile way ?
19-20 November 2014 (10-18h)
Location:
Hotel NH Brussels Airport
(Diegem)
Presented
in English
by
Sander Hoogendoorn
Price:
1450 EUR
(excl. 21% VAT)
Register Now »
AGENDA »
SPEAKERS » This event is history, please check out the List of Upcoming Seminars, or send us an email
Check out our related open workshops:
Check out our related in-house workshops:
Full Programme:
Both workshop days start at 10h00. We welcome the participants with coffee/tea and croissants from 9h30 onwards, and both days end around 18h00. Spread over 2 days, we will cover:
1. The smart use case approach:
Short overview of the workshop, how it all fits together
Agile software development and agile requirements
Determine project scope
Identify business processes
Identify smart use cases
Model smart use cases
Estimate smart use cases
2. Agile software development and agile requirements
A pragmatic and agile modelling approach to systems development projects
Why model ?
Why agile ?
How does agile work ?
Different levels of requirements: cloud, kite, sea and fish level
User stories, huge use cases and the YAGNI (you ain't gonna need it) principle
A pragmatic modelling approach, from business process to working application
3. Identifying scope and business processes
How to deal with business processes
How do you set the scope of your project ?
Which business processes are supported by the new application ?
How do you model chronological and hierarchical processes ?
Elementary business processes
How do you use the OTOPOP (one time, one place, one person) rule to limit the scope of use cases ?
The transition from business processes to smart use cases
This workshop starts where most UML trainings end: you will learn how to use UML and use cases in a practical, pragmatic, productive and agile way !
4. Identifying smart use cases
Smart use cases as a "fil rouge" in a project: how does this work ?
Different levels of use cases - sea level and fish level
From business processes to smart use cases
How do you identify smart use cases in your project ?
How to distinguish between the different types of smart use cases ?
5. Modelling smart use cases
How to model use cases diagrams ?
How to describe use cases
Actors and use cases
Use case scenario's
6. Implementing & Testing smart use cases
The smart use case implementation cycle
Writing use cases
Test scenarios and test cases
Unit testing smart use cases
Testing in the agile life cycle
Estimating projects, releases and iterations
7. Domain Modelling
How to model class diagrams
Modelling attributes, value objects, references, enumerations, associations, aggregations, composition, dependencies, ...
What is domain-driven design
8. Requirements in Agile Projects
Agile requirements. Business Analysis in an agile environment
Roles in agile development
Best practices when you use UML and smart use cases in agile projects
The smart use case as a guideline for the "Definition of Done"
SPEAKERS »
REGISTER »
Questions about this ? Interested but you can't attend ? Send us an email !