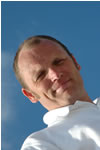 Pragmatic Modelling with UML and Use Cases
---
How to translate agile requirements in smart use cases and UML diagrams in a practical, pragmatic, productive and agile way ?
ON REQUEST
Location:
In-company
(YOUR COMPANY)
Presented
in English
by
Sander Hoogendoorn
Price:
ASK FOR PRICE QUOTE
(excl. 21% VAT)
AGENDA »
SPEAKERS »
The use of modelling techniques in software development projects leads to higher productivity and better quality of both the design and the code, as well as improved maintainability of the produced software. A picture says more than a thousand words. By combining UML modelling with agile techniques, these models will be used by end users, business analysts, developers, and testers to discuss the software under development.
Why UML ? Why smart use cases ?
The modelling language UML is now a worldwide standard for modelling requirements, functionality, components and services. UML 2.x (currently UML 2.4) contains some modelling techniques like use case diagrams, activity diagrams, communications diagrams, class diagrams and package diagrams. These modelling techniques are used during the various phases of system development, like analysis, design, implementation and even during testing.
However, the UML specifications define the structure of these modelling techniques but not how to use them in practice. This workshop will provide insight in the different diagrams and particularly the power of the use case.
During this workshop, Sander Hoogendoorn presents the smart use case implementation cycle in UML, where agile requirements, scope, business processes and smart use cases are identified, modelled and implemented in an agile way.
Why should you attend this workshop ?
This workshop begins where most other UML workshops end: you know the theory of UML, but this workshop teaches you how to use UML and use cases in a practical, pragmatic, productive and agile way !
Companies that use UML and use cases in their software development projects, should also implement a method to use the use cases in a pragmatic way throughout the development life cycle. This approach is also documented in Sander's book Pragmatisch Modelleren met UML 2.0. This method is used in many larger but also smaller organizations, and taught at various schools. You get this book free with your registration.
During this workshop, you get a number of essential tips and tricks to model UML diagrams and use cases in a pragmatic way. This method starts with the identification of business processes, all through the domain modelling, testing and estimation. By using a case study throughout the workshop (an online dating web site), the modelling process is explained and refined in group exercises.
We have already organized this workshop over 35 times, and the comments by participants vary from good to great.
This workshop answers these and other questions:
How to identify business processes
How to deduct (smart) use cases from these processes
How to model (smart) use cases
How can (smart) use cases be the "fil rouge" in your project?
What is the link between various UML modelling techniques ?
How to model the business domain and business logic ?
How do we test requirements and functionallity using smart use cases ?
Can we use UML and smart use cases in a pragmatic, agile and iterative development process ?
Who should attend this workshop ?
This workshop is aimed at everyone who is involved in the different phases of software development:
business analysts and requirements gatherers
software and IT architects
information analysts
developers
software designers, information modellers
testers, ...
Preferably, participants are (or will be) involved in the modelling, realization and testing of software, and have some knowledge of UML, although deep practical knowledge is not required.
Sander's book "Pragmatisch Modelleren met UML 2.0" provides background reading material for this workshop.
AGENDA »
SPEAKERS »
Check out our related open workshops:
Check out our related in-house workshops:
dit is een inhouse
Questions about this ? Interested but you can't attend ? Send us an email !