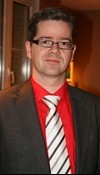 Virtualisatie: een Praktische Aanpak
---
Leveranciersonafhankelijk overzicht van de mogelijkheden, voordelen, toepassingen, ervaringen en valkuilen van virtualisatie
29 September 2010 (14-21)
Locatie:
Holiday Inn Airport
(Diegem)
Gepresenteerd
in het Nederlands
door
Prijs:
640 EUR
(excl. 21% BTW)
AGENDA »
SPREKERS » This event is history, please check out the List of Upcoming Seminars, or send us an email
Check out our related in-house workshops:
Volledig Programma:
13u30-14u00
Registratie en Koffie/Thee
Geschiedenis van de virtualisatie
Waarom virtualiseren ?
Overzicht van de virtualisatie domeinen

Server
Desktop
Applicatie
Netwerk
Storage

Markt-overzicht van de virtualisatie-oplossingen
14u45-16u00
Server Virtualisatie
Basis architecturen & concepten

Verschil Hosted en Bare Metal Hypervisors
Server hardware vereisten
Storage & netwerk vereisten

High Availability & Virtualisatie

Live migration
High Availability (virtual host)
High Availability (applicatief)
Fault Tolerance
Redundante Datacenters

Beheer van een Virtual Server omgeving

Deployment
Backup & Restore
Monitoring
16u30-17u15
Desktop Virtualisatie
Basisconcepten:

Server-based computing (SBC)
Virtual Desktop Initiative (VDI)
Client Virtualisatie

Architecturen
Belang van het display protocol
Beheer van een Virtual Desktop omgeving

Security & Anti-virus
End-to-end monitoring
Deployment & Change management
17u15-18u00
Applicatie Virtualisatie
Wat is applicatie virtualisatie ?
Concepten & architecturen
Streaming of distributie ?
19u15 - 20u00
Business Case voor Virtualisatie
In dit hoofdstuk krijgt u een overzicht van de investerings- (Capex) en operationele (Opex) parameters die de Return on Investment van een virtualisatie project bepalen.
ROI voor server virtualisatie
ROI voor desktop virtualisatie
Impact op licenties
20u00-20u45
Valkuilen en Lessons Learned rond Virtualisatie
In dit hoofdstuk worden een aantal onderwerpen uit de implementatie-ervaringen besproken. Deze omvatten onder andere:
Het belang van een correcte infrastructuur sizing en de parameters die daarop impact hebben
Wat is de impact van VDI op storage ?
Impact van 64bit vs 32bit
Virtualisatie en change management
Het klassieke Desktop- en Server-team moeten nu samenwerken: menselijke aspecten van virtualisatie
20u45-21u00
Wrap-up en conclusies
21u00
Einde van dit seminar
SPREKERS »
Vragen hierover ? Geïnteresseerd maar u kan niet deelnemen ? Stuur ons een email.