ArchiMate 2.0 Certification Course
---
Two-day workshop to learn and understand ArchiMate® 2.0: its core, its extensions and its best practices
3-4 July 2013 (10-18h)
Location:
Golden Tulip Brussels Airport
(Diegem)
Presented
in English
Price:
1650 EUR
(excl. 21% VAT)
Register Now »
AGENDA »
SPEAKERS » This event is history, please check out the List of Upcoming Seminars, or send us an email
Check out our related open workshops:
Speakers: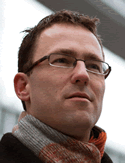 Bas van Gils is an enterprise architect with a passion for business and IT. His experience ranges from enterprise architecture to strategic management and leadership. In his work as enterprise architect, he has been involved in different types of projects, including standardization of processes and tooling with respect to development and governance of information systems, analysis and optimization of application portfolio, application integration, and motivating an organization (across departments and management layers) to embrace enterprise architecture as a way of working. In his work he strives to combine his practical experience with extensive knowledge of state of the art research on enterprise architecture including TOGAF and ArchiMate.
Bas is passionate about his work, has a strong personality, good analytic skills and good communication skills. A balance between adding value in practice and continuous learning is an essential ingredient of his attitude towards work. His ambition is to work on complex issues in the field of strategic architecture. Bas is currently also active as researcher and lecturer.
You can follow Bas on twitter via @basvg.
AGENDA »
REGISTER »