Microsoft PowerApps en Flow: de Toolset voor Citizen Developers
---
Een overzicht van Microsoft's Business Application Framework: ontdek hoe makkelijk citizen developers business applicaties kunnen bouwen
7 December 2017 (14-18.30)
Location:
Parker Hotel
(Diegem)
Gepresenteerd
in het Nederlands
door
Gert Vonck en Steve Da Re
Prijs:
480 EUR
(excl. 21% BTW)
Registreer NU »
AGENDA »
SPREKERS » This event is history, please check out the List of Upcoming Seminars
Check out our related open workshops:
Check out our related in-house workshops:
Leerobjectieven:
De opkomst van de citizen developer en low-code platformen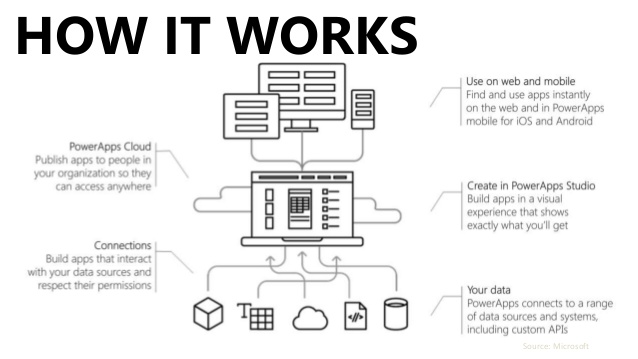 De evolutie in Low Code Application Platformen biedt ons de mogelijkheid om op een eenvoudige, intuïtieve en business gedreven manier nieuwe bedrijfsapplicaties te bouwen. De voordelen van low code platformen zijn enorm:
minder nood aan platform-specifieke ontwikkelaars (een oplossing voor de skills shortage),
snellere time-to-market (bouw een kleine app in uren i.p.v. weken),
lagere ontwikkelkosten (geen experten nodig),
maken gebruik van cloud, mobile, responsive, multi-platform, ...
Naast deze nieuwe generatie RAD (Rapid Application Development) tools, zien we ook de opkomst van de citizen developer. Dit zijn gedreven business gebruikers, met affiniteit voor technologie, die nieuwe applicaties bouwen dankzij low code application platformen.
Met de komst van Microsoft's Business Application Framework, waarin we applicaties terugvinden als PowerApps, Flow, de Common Data Service en PowerBI, investeert Microsoft volop in de uitbouw van hun low code platform. Het reikt verder dan de typische low code platformen, want het voorziet ook de nodige functionaliteiten rond business analytics en business automation, wat het een ideale oplossing maakt voor elke citizen developer in een Microsoft omgeving (SharePoint, Office365, eventueel ook Dynamics).
Tijdens dit namiddagseminar kijken we naar de mogelijke rol van citizen development en het Microsoft low-code application platform in uw bedrijf. We duiken in applicaties als PowerApps, Flow en de Common Data Service, en tonen met welk gemak nieuwe applicaties kunnen gebouwd worden. Wie zijn laptop meebrengt, krijgt een vliegende start in het bouwen van een typische applicatie. Ondertussen hebben in de voorbije sessies reeds een 30-tal IT-ers en ook niet IT-ers een mobiele applicatie gebouwd, die ze trots op hun smartphone demonstreerden.
Bereidt u dus voor op tal van boeiende inzichten in een platform dat een revolutie kan teweeg brengen binnen elke business landschap!
Wat leert u uit deze seminar ?
Inhoudelijk zullen we de volgende vragen beantwoorden:
Wat is een low code platform ?
Welke uitdagingen kunnen we oplossen door gebruik te maken van low code platformen ?
Wat is de impact van low code platformen op mijn organisatie ?
Citizen developers: wie zijn ze, wat doen ze ?
Zijn er limieten bij het gebruik van low code platformen ?
Wat is het perspectief van Microsoft ?
Wat zijn de voordelen van Microsoft PowerApps & Flow ?
Hoe snel kan u hiermee van start gaan ?
Voor wie is dit seminar bestemd ?
Dit seminar is bedoeld voor iedereen met interesse in low code platformen, meer specifiek Microsoft PowerApps & Flow.
Dit is een kort overzicht van het programma van dit uniek seminar:
13.30u - 14.00u - Registratie, koffie/thee en croissants
14.00u - 14.45u - De citizen developer en low code platformen
14.45u - 15.15u - Overzicht van het Microsoft Business Application Framework
Rond 15.45u - Koffie/Thee en Versnaperingen
15.15u - 17.00u - Deep dive in Microsoft PowerApps & Flow
17.00u - 18.20u - PowerApps & Flow in de praktijk
18.20u - 18.30u - Q & A, Samenvatting en Conclusies
18.30u - Einde van dit Seminar
AGENDA »
SPREKERS »
REGISTER »