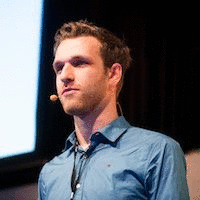 Blockchain in Practice
---
Register Now »
AGENDA »
SPEAKERS » This event is history, please check out the NEXT SESSION
Check out our related open workshops:
Check out our related in-house workshops:
Full Programme:
13.30h - 14.00h
Registration and Coffee/Tea
14.00h
Introduction to Blockchain (Sam Wouters, Duval Union Consulting)
Sam will give you a broad introduction to Bitcoin and the blockchain, to help you understand why there are millions of people around the world that believe in it, despite the skepticism and misconceptions.
Why do Bitcoin and blockchain exist ?
How do they work ?
Debunking the skepticism and misconceptions
What can be done with blockchain technology ?
Some business use cases
15.00h
How to Start a Blockchain Project? (Thomas Marckx and Kevin Leyssens, TheLedger)
We'll dive further into the different characteristics of a blockchain network. The 4 types of existing blockchains – public/private and permissioned/permissionless – will be discussed.
A decentralised network needs concensus mechanisms, which ones are currently used ?
When can a blockchain improve your business? How to differentiate a good use-case from a bad ?
Where does a blockchain fit in your current - or future - technology stack ?
What are the different competences needed in the team to start a project ?
15.30h
Evolution of Blockchain technologies (Thomas Marckx and Kevin Leyssens, TheLedger)
Bitcoin is old blockchain technology. Currently there are much more capable technologies under development. We'll discuss the differences between Ethereum and Hyperledger Fabric in detail, both so-called blockchain 2.0 technologies.
What is a smart contract and how can it benefit cross-industries ?
What you need to know about HyperLedger, Ethereum, BigchainDB and other solutions
How do big companies like Microsoft and IBM see the evolution and what are they investing in ?
16.00h
Coffee/Tea Break and Networking
16.15h
Finding a Business Case for Blockchains (Sam Wouters, Duval Union Consulting)
Let's think and discuss about what your company can do with this technology. This managed brainstorming session is mainly aimed at business managers, but we'll make it useful for all.
17.00h
Case Study: P2P Energy Trading using a Private Blockchain (Ronnie Dibbaut, Ferranti Computer Systems)
MECOMS™ is Ferranti's flagship product that helps energy and utility companies serve their customers better. Their prospect-to-cash Meter Data Management (MDM) and Customer information system (CRM) is actually Microsoft's recommended solution for energy and utility companies across the globe.
This Belgian company now supports smart contracts using private blockchain technology (Ethereum) to allow peer-to-peer energy trading. By the way, their Mecoms product is also using Microsoft's latest cognitive solutions to revolutionise customer service via the MIA (Mecoms Interactive Agent) chatbot.
18.45h
Prototyping a Blockchain Network (Thomas Marckx, TheLedger)
We show you how to build a blockchain from scratch. We'll guide you through the different steps needed to set up a private ethereum blockchain network. This demonstration and presentation focuses on technology, tools and skills, and contains some technical details, do's and don'ts, and coding examples.
How to start with Ethereum ?
Schematic overview of the toolbox and setup
Beyond the prototype: how does it fit in my architecture ?
Where and how do you deploy it ?
Blockchain-ops
How does a blockchain team look like ?
19.45h
Future of Blockchain Technology (Thomas Marckx and Kevin Leyssens, TheLedger)
Blockchain will undoubtedly have an enormous impact on our society. But how will the technology further evolve and what are the different visions ? How it will integrate on different levels of our daily lives? Will the Internet-of-Everything (IoT/IoE), smart cities and sharing economy be built on top of blockchains ?
We'll discuss how the blockchain in combination with other technologies can bring science fiction closer to reality.
20.45h
Conclusions and Summary
21.00h
End of this Seminar
This is a very brief overview of the programme of this unique seminar:
13.30h - 14.00h: Registration and welcome of the participants with coffee/tea and croissants + Networking opportunity
14.00h: Introduction to Blockchain
15.00h: How to Start a Blockchain Project
15.30h: Evolution of Blockchain technologies
16.00h: Coffee/Tea, Refreshments and Networking
16.15h: Finding a Business Case for Blockchains - Managed Brainstorming Session
17.00h: Blockchain Case Study: Peer 2 Peer Energy Trading (MECOMS, Ferranti Computer Systems)
17.50h: Dinner Buffet
18.45h: Prototyping a Blockchain Network
19.45h: Future of Blockchain Technology
20.45h: Conclusions and Summary
21.00h: End of this Seminar
SPEAKERS »
REGISTER »