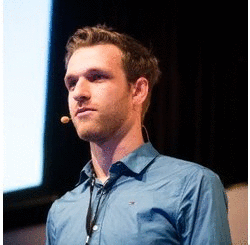 Blockchains in Practice
---
Register Now »
AGENDA »
SPEAKERS » This event is history, please check out the NEXT SESSION
Check out our related open workshops:
Check out our related in-house workshops:
Full Programme:
13.30h - 14.00h
Registration and Coffee/Tea
14.00h
Introduction to Blockchains (Sam Wouters, Duval Union Consulting)
Sam will give you a broad introduction to Bitcoin and the blockchain, to help you understand why there are millions of people around the world that believe in it, despite the skepticism and misconceptions.
Why do Bitcoin and blockchain exist ?
How do they work ?
Debunking the skepticism and misconceptions
What can be done with blockchain technology ?
Some business use cases
15.00h
The Trust Machine (Thomas Marckx, TheLedger)
Trust as an important component of the sharing economy and society
Sharing and distributing ledgers
Blockchains as one of the building blocks for Distributed Ledger Technology
Consensus mechanisms and blockchain alternatives, e.g. IOTA's Tangle (a DAG, Directed Acyclic Graph)
15.30h
Coffee/Tea Break and Networking
16.00h
How to Start a Blockchain / Distributed Ledger Technology Project (Thomas Marckx, TheLedger)
We'll go further into depth on the different characteristics of a blockchain network. The 4 types of existing blockchains – public/private and permissioned/permissionless – will be discussed.
A look at TheLedger's implementation methodology
When can a blockchain improve your business? How to differentiate a good use-case from a bad ?
Where does a blockchain fit in your current - or future - technology stack ?
What are the different competences needed in the team to start a project ?
16.30h
Technology Overview (Thomas Marckx and Jeroen De Prest, TheLedger)
Bitcoin is old blockchain technology. Currently there are much more capable technologies under development. We'll discuss the differences between Ethereum and Hyperledger Fabric in detail, both so-called blockchain 2.0 technologies.
What is a smart contract and how can it benefit cross-industries ?
What you need to know about HyperLedger, Ethereum, BigchainDB, IOTA and other solutions
How do big companies like Microsoft and IBM see the evolution and what are they investing in ?
17.15h
Guided Tour to Building a Prototype (Jeroen De Prest and Thomas Marckx, TheLedger)
Steps in building a prototype
From generic idea to functional user stories
Do you need a blockchain
Choosing the right technology (e.g. Ethereum)
Writing smart contracts
Demo
Examples of use cases per sector
18.15h
Discussion + Questions & Answers
18.30h
Formal End of this Seminar, but you are welcome to discuss this and other topics further with speakers and participants
This is a very brief overview of the programme of this unique seminar:
13.30h - 14.00h: Registration and welcome of the participants with coffee/tea and croissants + Networking opportunity
14.00h: Introduction to Blockchains
15.00h: The Trust Machine
15.30h: Coffee/Tea, Refreshments and Networking
16.00h: How to Start a Blockchain / Distributed Ledger Technology Project
16.30h: Technology Overview
17.15h: Guided Tour to Building a Prototype
18.15h: Conclusions and Summary
18.30h: End of this Seminar
SPEAKERS »
REGISTER »