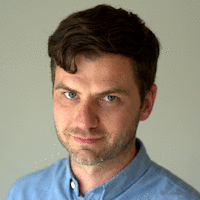 Why Blockchain Projects Fail and How They Might Succeed
---
Learn more about identifying relevant use cases, building the right product and more robust business cases
24 April 2019 (14-18.30h)
Location:
Parker Hotel
(Diegem)
Presented
in English
by
Gerrie Smits and Thomas Marckx
Price:
480 EUR
(excl. 21% VAT) This event is history, please check out the List of Upcoming Seminars, or send us an email
Check out these related open workshops:
Check out our related in-house workshops:
Learning Objectives
Even beyond the hype, blockchains are still very promising !
So, despite the crypto crash and the critical colleagues ("it's just a database!") you have a feeling that blockchain does have potential. In this workshop, we focus on what blockchain can do for your business. We also get an idea of what it can't do, very important if you are preparing a business case or raising money for a start-up.
This session is for business and IT people who have a basic understanding of what blockchain is, but want to learn a more structured way of thinking about blockchain projects: how to identify relevant use cases, how to come up with relevant solutions and what steps to take towards a more robust business case.
Who should attend ?
This workshop is aimed at anyone who wants to know more about the potential of blockchain technology, one of the most important innovations since the Internet. Blockchain can disrupt any industry, also your industry. This workshop will be your eye-opener to the business opportunities of blockchains, tokens, ecosystem thinking and decentralisation.
This is not a technical workshop, we don't program and you don't need to bring a laptop, although the presenters can also go into those details if you want to.
What will you do and learn in this session?
This workshop answers these and many other questions:
What was promised and what has been realised so far ?
How should you think about blockchain-based businesses and eco-systems ?
What are the key success factors of blockchain ?
How do you identify relevant use cases ?
How do you use the Value Mapping Canvas to find opportunities ?
How can companies come to eco-system agreements and governance rules ?
Why a token economy models so interesting ?
What are the questions that need to be answered in order to take your blockchain use case a step forward and turn it into a project ?
Full Programme
13.30h - 14.00h
Registration and Coffee/Tea
What did blockchain promise?
What is the current state of different platforms & technologies
2 - Back to basics, what are conceptual components of blockchain
We present a short, non-technical framework to what is so special about blockchain. What are the conceptual components? Understanding these makes thinking about blockchain solutions more efficient.
3 - What are some projects built and why did they succeed or fail
We reverse-engineer a few existing projects. What did they try to achieve? What worked and what didn't work? We use a Blockchain Canvas to map and analyse these projects.
4 - So what can you do with blockchain - Optimisation
Coached by the facilitators you work in groups to explore the opportunities with regards to optimisation of processes. You will be inspired by example use cases from a variety of industries and guided by a Value Mapping canvas. What are the differences in architecture design, governance and business cases.
15.30h
Coffee/Tea Break and Networking
5 - So what can you do with blockchain - New Services
We expand the scope of the exercise. If a start-up would use blockchain to build new services in your industry, what would they build?
6 - Why eco-systems work and why they fail
A key aspect in blockchain is collaboration. What are the key conditions for this? How can companies create a flourishing 'commons' and how do we define the governance rules in such an eco-system?
7 - Token models & community models
Based on the eco-system model, we take another leap in decentralised thinking. We present how token economy models could re-design organisations and business models and use those insights to explore what that could mean for your business.
8 - Blockchain Canvas to validate and pitch
What are the questions that need to be answered in order to take your use case a step forward and turn it into a project.
18.15h
Discussion + Questions & Answers
18.30h
Formal End of this workshop, but you are welcome to discuss this and other topics further with speakers and participants. The bar is open.
Speakers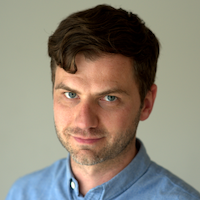 Gerrie is fascinated by blockchain and other digital trends, and he helps organisations make sense of their impact on products, brands, communications, organisations. The words that he uses too often are 'User', 'Why' and 'Added Value'.
During his 20-odd years of professional experience, Gerrie has worked in industries that got seriously challenged by the internet: tv, publishing, music industry, marketing, and even government.
Gerrie's presentations and workshops are known to be enthusiastic, result-focused, creative and good at making people think differently.
In 2018, he wrote "Blockchain is WTF (Waarschijnlijk Toch Fundamenteel - yes, it is in Dutch)".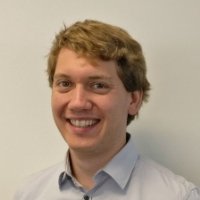 Following his studies, Thomas worked as an IT consultant in the financial industry for several years.
Since 2016, he works at the company TheLedger, a part of the Cronos group, where he is responsible for everything related to Blockchain.
Questions about this ? Interested but you can't attend ? Send us an email !