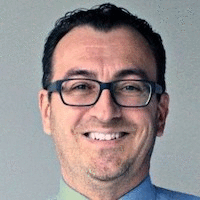 The BI & Data Analytics Summit
---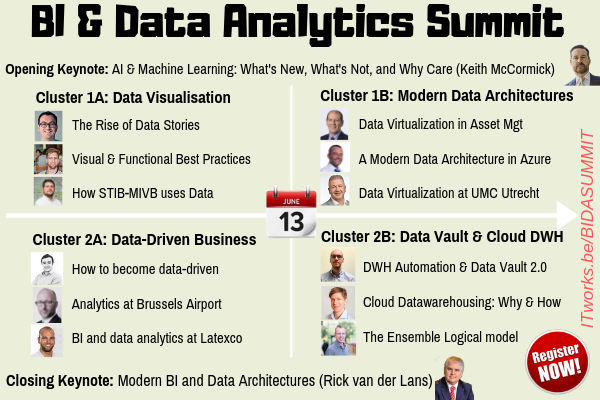 13 June 2019 (9-17h30)
Location:
Parker Hotel
(Diegem)
Presented
in English
by
Keith McCormick (opening keynote), Rick van der Lans (closing keynote), and 12 half-hour presentations between these keynotes
Price:
450 EUR
(excl. 21% VAT)
Register Now »
AGENDA »
SPEAKERS » This event is history, please check out the List of Upcoming Seminars
Check out our related open workshops:
Check out our related in-house workshops:
The BI & Data Analytics Summit
The BI & Data Analytics Summit is a combination of 2 unique in-depth tutorials on June 12th (one on Data Virtualization with Rick van der Lans and one on Machine Learning with Keith McCormick), and an information-packed conference with 14 inspiring speakers on June 13th, 2019:
Compact Programme of the BI & Data Analytics Summit on June 13th:
Time
Room A
Room B
9h00
A Word of Welcome by Conference Chairman Rick van der Lans, followed by Session Pitches
9h30
Opening Keynote: AI and Machine Learning: What's New, What's Not, and Why Care?
(Keith McCormick - data mining consultant, trainer, speaker, and author)
10h30
Coffee/Tea, Networking and Exhibitions
11h00
Cluster 1A: Making Data Actionable with Data Visualisation

Cluster 1B: Modern Data Architectures, including Data Virtualisation


Data Virtualization at UMC Utrecht

: Don't Collect, Connect! (

Erik Fransen, connecteddatagroup

)

12h45
Lunch, Networking and Exhibitions
13h50
Sponsor Presentations



InfoRoad sponsor presentation: Introduce the data virtualization concept into your BI architecture today (Bart De Groeve, Manager at InfoRoad)




WhereScape sponsor presentation: Data-Infrastructure Automation Software for Cloud, Hybrid and On-premise (Simon Asplen-Taylor, Chief Data Officer at Rank Group, a big WhereScape customer)

14h15
Afternoon Presentations
14h15
Cluster 2A: Analytics for the Data-Driven Organisation

Cluster 2B: New BI Solution Approaches, including Data Vault


Cloud Datawarehousing: Why and How?

(Google, Amazon, Azure, Snowflake) (

Rogier Werschkull, Cloud Analytics Now

)

16h00
Coffee/Tea, Networking and Room Switch
16h30
Closing Keynote: Modern BI and Data Architectures
(Rick van der Lans, independent analyst, consultant, author, and lecturer)
17h30
End of the Summit
SHOW me the full programme ...