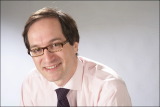 Achieving Business/IT Alignment
---
Better alignment by better governance, better communication and a more flexible architecture
8 December 2005 (14-21)
Location:
Sofitel Diegem
(Diegem near Brussels (Belgium))
Presented
in English
by
Price:
540 EUR
(excl. 21% VAT) This event is history, please check out the List of Upcoming Seminars, or send us an email
Check out our related in-house workshops:
Learning Objectives
Why this seminar?
Business/IT alignment is a hot topic for lots of companies nowadays. Getting IT to fulfill the needs and desires of the Business, is far more than a technical issue, it is mainly about organisation, culture and politics. Business/IT alignment is about the relationship between Business and IT, the role IT plays in the business strategy, and the vision Business has on the impact of IT and the added value IT can offer in achieving the company's mission.
10 Years after the groundbreaking article by Henderson and Venkatraman on "Strategic Business and IT Alignment" we seem to be farther away from alignment than ever before. Business is disillusioned and criticises obstacles and missed opportunities, because of slow or bad response from IT to its demands. Business sees IT as a cost center, rather than a strategic asset.
IT is frustrated by the vagueness and volatility of business demands. IT doesn't feel appreciated for what it achieves and the blood, sweat and tears it sheds.
And probably worst: both "camps" got used to this situation and think it is the nature of things. IT has always been merely a cost center and it will always be that way. However, research shows that companies who succeed in better alignment between Business and IT, are more innovative and better capable of meeting new business demands.
Business/ICT Alignment is not an instant solution: it is about two groups of people who use different jargons, and who have a different mission and strategy. Alignment is first and foremost a problem of communication.
This seminar will mainly focus on three aspects of Business/IT alignment:
better alignment by means of better governance
better alignment by means of improved communication
better alignment by means of a more flexible architecture
Each one of these aspects will be investigated from the IT and from the business perspective.
Peter Hinssen will not only discuss what Business/IT alignment, governance, communication and architecture mean for you, but will also offer a number of tips for a pragmatic approach and ways to harmonise the views of Business managers and IT departments.
What questions will be answered during this seminar?
What is Business/IT alignment ?
How can IT governance help improving Business/IT alignment?
Is alignment a step in the direction of outsourcing, or the best way of preventing outsourcing?
Better alignment by improved communication: how to put this into practice?
Better alignment by setting up better governance structures: what works and what does not?
How to build a "new deal" between Business and IT, and how to maintain it?
Who should attend this seminar ?
Both IT and Business people who want to know more about Business/IT alignment, IT governance and improving the relationship between IT and business. Ideally, both sides of your company are represented so you can start during this seminar already....
And of course this seminar is a good networking opportunity to meet and exchange ideas with colleagues tackling the same issues as you are.
Full Programme
13h30-14h00
Registration with Coffee/Tea and Croissants
14h00
Introduction: a Short History of Alignment
Henderson/Venkatraman 10 years on: where are we today?
Evolution of the Business/IT role stereotypes
How did it end up like this? Did we really deserve it?
Trends and evolution in the Business/IT relationship: ERP, BPR, Y2K, Internet and outsourcing
The current state of affairs: ranging from minor misunderstandings to major distrust - what made the balance tip the wrong way?
The current Business and IT environment: the call for an agile, adaptive, flexible, on-demand organisation versus the struggle with legacy, integration, reputation, cost pressure, outsourcing and job protection
15h20
Better Alignment via Governance
Governance in IT
Impact on the organisation: buffer organisations between Business and IT, and a change in roles
Governance bodies
Governance models and metrics (such as ITIL and CobiT)
Everything is management: project management, process management, program management, change management. But how to manage management?
How to involve Business in governance mechanisms
CIO and the IT Management: their role, profiles, background and duties
The previous session will be interrupted by a 20-minute coffee/tea break in the information market
16h40
Better Alignment via Communication
IT people come from Mars... and Business thinks they should have stayed there
How to communicate on IT: clarity, simplicity and transparence (Don Tapscott's Naked Corporation)
Explaining an IT strategy to Business people
Understanding what a Business strategy means in an IT context
Building an easy-to-grasp business case
Between IT and Business language: "Lost in Translation?"
Growing towards a common vocabulary?
From Communication about IT towards the Marketing of IT
19h00
Better Alignment via Architecture
Architecture as a core IT instrument to meet Business demands
How to introduce the concept of Architecture in the organisation
How to achieve the ultimate goal: "The CEO should be the key architect"
Architecture models: business architecture, process architecture, information architecture, infrastructure architecture
Architecture and agility
Architecture and process management
Architecture and outsourcing: preparing or preventing outsourcing
The essence of architecture: more than drawing up nice diagrams in Visio
The role of the architect, alignment on architecture internally within the IT department
Impact of architecture on the alignment process, and on alignment in general
Business benefits of architecture
20h00
Alignment in practice: how to start?
Towards a 'new deal' between Business and IT

Starting the dialogue, initialising the relationship
Create a momentum for Alignment
Alignment as a cultural change program
Alignment as an organisational change
Alignment as an attitude shift

How to build an alignment charter, and how do you find the right executive sponsors?
A New Deal, new instruments: relationship building, seminars, workshops, exchanges, immersion
Setting realistic alignment objectives and alignment milestones
Alignment task forces: roles, structure and effectiveness
Having Business involved in Business/IT alignment: the biggest challenge of IT nowadays
20h45
Discussion, summary and conclusions
---
Interesting Literature on this subject:
Speakers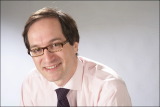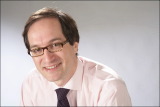 Ir. Peter Hinssen is an entrepreneur, lecturer and writer. Currently, he is chairman of Porthus NV, which he co-founded in 1999. Porthus is one of the leading providers of OnDemand IT solutions. Peter is also co-founder of Across Technology, a consultancy company for IT Strategy, Business/IT Alignment and Change Management.
In 1995, Peter started his Internet ventures by launching e-COM, an Internet Agency that focused on the Intranet/Portal market and was acquired in 1999 by Alcatel, and which was renamed to Alcatel e-COM and later to The e-Corporation. From 2000 he was Entrepreneur in Residence with McKinsey & Company, where he worked for 2 years on entrepreneurship, e-government and business/IT alignment.
Peter worked together with John Henderson ('Strategic alignment between business and IT'), Nicholas Carr ('IT doesn't matter') and Peter Weill ('Enterprise Architecture as Strategy') in strategic alignment projects for e.g. ING, FORTIS, Johnson & Johnson and the Royal Bank of Scotland.
He just finished the book "Business/IT Fusion. How to move beyond Alignment and transform IT in your organization" (published by Mach Media NV, ISBN: 9789081324236, 280 pages, hardcover).
Questions about this ? Interested but you can't attend ? Send us an email !