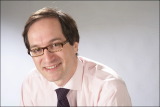 Achieving Business/IT Alignment
---
Better alignment by better governance, better communication and a more flexible architecture
8 December 2005 (14-21)
Location:
Sofitel Diegem
(Diegem near Brussels (Belgium))
Presented
in English
by
Price:
540 EUR
(excl. 21% VAT)
AGENDA »
SPEAKERS » This event is history, please check out the List of Upcoming Seminars, or send us an email
Check out our related in-house workshops:
Why this seminar?
Business/IT alignment is a hot topic for lots of companies nowadays. Getting IT to fulfill the needs and desires of the Business, is far more than a technical issue, it is mainly about organisation, culture and politics. Business/IT alignment is about the relationship between Business and IT, the role IT plays in the business strategy, and the vision Business has on the impact of IT and the added value IT can offer in achieving the company's mission.
10 Years after the groundbreaking article by Henderson and Venkatraman on "Strategic Business and IT Alignment" we seem to be farther away from alignment than ever before. Business is disillusioned and criticises obstacles and missed opportunities, because of slow or bad response from IT to its demands. Business sees IT as a cost center, rather than a strategic asset.
IT is frustrated by the vagueness and volatility of business demands. IT doesn't feel appreciated for what it achieves and the blood, sweat and tears it sheds.
And probably worst: both "camps" got used to this situation and think it is the nature of things. IT has always been merely a cost center and it will always be that way. However, research shows that companies who succeed in better alignment between Business and IT, are more innovative and better capable of meeting new business demands.
Business/ICT Alignment is not an instant solution: it is about two groups of people who use different jargons, and who have a different mission and strategy. Alignment is first and foremost a problem of communication.
This seminar will mainly focus on three aspects of Business/IT alignment:
better alignment by means of better governance
better alignment by means of improved communication
better alignment by means of a more flexible architecture
Each one of these aspects will be investigated from the IT and from the business perspective.
Peter Hinssen will not only discuss what Business/IT alignment, governance, communication and architecture mean for you, but will also offer a number of tips for a pragmatic approach and ways to harmonise the views of Business managers and IT departments.
What questions will be answered during this seminar?
What is Business/IT alignment ?
How can IT governance help improving Business/IT alignment?
Is alignment a step in the direction of outsourcing, or the best way of preventing outsourcing?
Better alignment by improved communication: how to put this into practice?
Better alignment by setting up better governance structures: what works and what does not?
How to build a "new deal" between Business and IT, and how to maintain it?
Who should attend this seminar ?
Both IT and Business people who want to know more about Business/IT alignment, IT governance and improving the relationship between IT and business. Ideally, both sides of your company are represented so you can start during this seminar already....
And of course this seminar is a good networking opportunity to meet and exchange ideas with colleagues tackling the same issues as you are.
AGENDA »
SPEAKERS »
Questions about this ? Interested but you can't attend ? Send us an email !