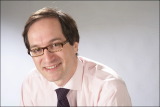 Business/IT Fusion Seminar
---
Fusion is about blending IT into the business, and it is a recipe for business integration and innovation. But what are its ingredients and how do you make this happen ?
23 September 2009 (14-21)
Location:
Pullman Diegem
(Diegem)
Presented
in English
by
Price:
640 EUR
(excl. 21% VAT)
AGENDA »
SPEAKERS » This event is history, please check out the List of Upcoming Seminars
Check out our related in-house workshops:
Full Programme:
13h30-14h00
Registration with Coffee/Tea and Croissants
FREE BOOK with your seminar participation: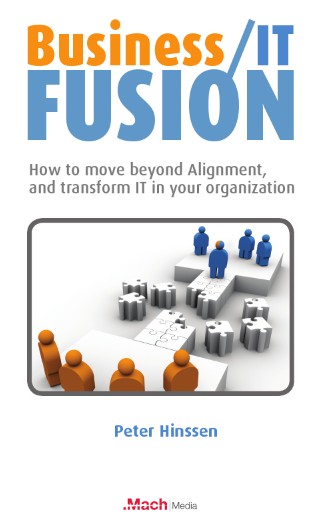 Business/IT Fusion. How to move beyond Alignment and transform IT in your organization
(published by Mach Media NV, ISBN: 9789081324236, 280 pages, hardcover)
Get this brandnew book free with your seminar participation.
14h00: 1. The past, present and future of IT
2. The Elements of Fusion
We think the old 'island of IT' is a concept that is dead in the water. We believe that we should not just be concerned with 'aligning business and IT', but that we should be busy integrating IT into the business. We believe the time has come for business and IT to fuse.
Why is alignment a dead-end street ?
What does the concept of Fusion mean for IT ?
What are the elements of Fusion, and how to apply them ?
Over the course of the last fifteen years of study and research into the field of alignment, a number of models have proven to be extremely valuable, or at least interesting, to look at the business & IT alignment domain.
Are these models still relevant in a Fusion context ? Absolutely, because these models can be used in the transition towards a state of Fusion, and can in a lot of cases form a source of inspiration to look at the dialogue between business and IT.
The models of Alignment
The models of Fusion
15h30
Coffee/Tea and Refreshments
What type of people do you need in a Fusion process ? For a very long time, we've hired extremely technical specialists into our IT departments, and we have created armies of semi-autistic, communicationally-challenged deep-technical Nerds. In a Fusion concept, we need a new breed of professionals, with a new blend of skills and competencies.
When you transform your IT department, the most important priority should be on people and culture. They are the foundation of the new IT.
What does the 'people' element in a Fusion process entail ?
Which blend of people will we need to attract, hire, train or develop ?
How can you do just that ?
How can you crack the 'culture' code in an IT transformation ?
In the successful transformation of IT, perhaps the Fusion of IT and business, no factor is as determinate and as crucial as the profile of the CIO.
That's why we think it is useful to spend a short section on the evolving role of the CIO, and on the type of profile that will be necessary as CIO going forward.
Building up the communication skills, and developing a marketing mindset within IT is just part of an overall approach to strive towards better IT alignment, and a totally new relationship between business and IT. Today, more than ever before in our careers in IT, we have to be pro-active in reaching out to the business. Building a better communication will be essential in our drive to radiate IT leadership.
What is the rationale for communication in IT, and what are the mechanisms for communicating with the business on IT-related matters ?
How do we build a communication and marketing strategy for the information technology function ?
How can you raise the communication potential and marketing savvyness of your IT staff ?
7. Intelligent Governance
Most IT departments have set up IT Governance purely in a 'monitor and control' mentality, burdening the IT department with extremely heavy compliancy, rules and procedures, and with the result that the business customer of IT now is confronted with a bureaucratic IT apparatus that kills all creativity, flexibility and innovation.
If we go from IT Governance to the concept of Intelligent Governance, and turn the static budgeting process into a dynamic portfolio mechanism, then we can truly revive the Governance domain from a sluggish bottleneck into an accelerator of change and a catalyst for the Fusion process between business and IT.
Talk about the danger of using Governance as an excuse to build a self-deluding straight-jacket of control in the IT department.
Review the current models of IT Governance that go beyond the 'controlling' elements of Governance.
Explain the difference between 'budget' thinking and 'portfolio' thinking.
Explore the possibility of 'value-based scenario-planning' in IT.
Show how to use the concept of Intelligent Governance as a mechanism for Fusion between business and IT
Demonstrate that governance can also be an intelligent mechanism to create more value with IT
Architecture will be a key component in rethinking IT. Architecture should provide us with the tools and the mechanisms to not just think about today, but about the future of using technology in our companies.
The rethinking of the role of architecture means that we will have to focus on the real importance of an organization, about the soul of the organization, and that starts with the operational model. This is the core DNA of the company and the lifeblood that is at the very heart of everything we do. Enterprise architecture should become a weapon of change: instead of a static interpretation of the current, it should become an instrument for dealing with the constant flux.
Explain the evolving role of architecture in IT
Explore the notion of Enterprise Architecture, and what it means in a Business / IT Fusion context
Develop the link between Architecture and Strategy, and how to turn IT Architecture into a management tool
Elaborate on the concept of Scenario Planning as a mechanism to look at the dynamic aspects of Architecture
Investigate the role and the profile of the Architect
Give examples of how the changing role of Architecture can be applied in an Enterprise context
A roadmap for IT going forward
Conducting an assessment of where you are
Mapping out the work necessary to reshape the IT department
Where will the Fusion of Business and IT lead our industry, and where could it lead you ?
20h45
Discussion, summary and conclusions
---
SPEAKERS »
Questions about this ? Interested but you can't attend ? Send us an email !