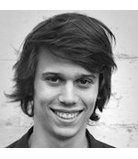 (Chat)Bots and Conversational Interfaces
---
Register Now »
AGENDA »
SPEAKERS » This event is history, please check out the NEXT SESSION
Check out our related in-house workshops:
Why do we organise this seminar on (chat)bots and conversational interfaces ?
Chatbots and conversational agents are computer programs, designed to behave like a human (hence the link with AI, Artifical Intelligence), in order to get information or get things done. Chatbots and AI assistants will grow in both enterprise and consumer spaces. Or, with the words of Satya Nadella: Chatbots will fundamentally revolutionize how computing is experienced by everybody" (July 2016).
During this seminar, we look at what chatbots and conversational agents are, how you can build them, and what types of applications are possible. One of our speakers will show how chatbots can revolutionize customer service, because they are available 24/7, much cheaper than humans, and accessible via standard messaging services like Facebook Messenger, Slack, WhatsApp, Kik or WeChat. They can respond very quickly to the questions and requests from many customers at the same time while staying highly personalized, making them an ideal tool to automate and streamline customer service processes.
Who should attend ?
This seminar answers these and many other questions:
What are Chatbots and Conversational Agents ?
How do you build bot-based solutions ?
What are the advantages of bots compared to humans ?
How can these be used for customer interaction ?
What are the major vendors like Microsoft, IBM, Facebook, Google, Amazon and others doing ?
Anyone interested in the automation of computer-human interaction (customer service, retail, e-commerce, search engines, ...) will benefit from this vendor-independent overview of what chatbots are and how your company can use them.
AGENDA »
SPEAKERS »
REGISTER »
Questions about this ? Interested but you can't attend ? Send us an email !