How to use Top Task Management to increase customer satisfaction. With Gerry McGovern, author of the Stranger's Long Neck book
Price: 720 EUR (excl. 21% VAT)


Presented
in English
by
Stranger's Long Neck
book" href="/event.php?id=CBEXPD1&se=speakers">Gerry McGovern
Stranger's Long Neck
book" href="/event.php?id=CBEXPD1&se=speakers"> This event is history, please check out the List of Upcoming Seminars
"Manage the tasks, not the content !"
Why do we organize this seminar ?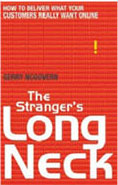 The future of the Web is about self-service and self-service is about simplicity. Your job is about understanding how to create quality service-focused websites and apps that truly focus on what the customer needs. It's about making things easy and fast. This workshop will help you do that.
Are the tiny tasks making your life - and the life of your customers - miserable ? All these requests from all these stakeholders who want this and that feature, who want their content prioritized. Is much of your week spent dealing with tiny tasks when you know you should be improving the top tasks of your customers ? Do you need a method that helps you prioritize and easily defend the decisions you make based on these priorities? Well, then this workshop is for you.
Top Task Management is part of Lean Design thinking. It's about creating an environment that is built to change rather than built to last. Top Task Management is very much suited to mobile design because it is about focusing on what is essential, making sure that the customers are able to quickly and easily complete their top tasks. Top Task Management is about measuring and managing outcomes, not inputs. If customer A spends 2 minutes on a page and customer B spends 4 minutes on a page, which was more satisfied? Is it really a good thing that employees are looking at lots of pages on your intranet?
The old web metrics are broken. Not just broken. They often give a false and damaging impression of your performance. High volumes of visitors, spending lots of time, looking at lots of pages could be positive but could just as well be negative. The scary thing is: WE DON'T KNOW.
Top Task Management gives you a way to focus on customer self-service and to truly know how well your website is performing. It is used by organizations such as Microsoft, Cisco, VMware and IBM. It gives you real metrics that truly measure how well your online environment is performing. But more than that, it gives you a roadmap for improvement.
What will you learn ?

During this workshop, our speaker Gerry McGovern will teach you:
Cutting edge techniques to clearly identify your customers' top tasks. Equally, you will also identify the tiny tasks; those that have low demand.
How to measure the performance of your customers' top tasks. A tried and trusted method that will deliver solid management metrics and will drive improvement of your website.
How to manage the competing demands of different organizational stakeholders and their views on what should be prioritized.
How to persuade senior managers that your online presence is a core business asset and should be treated like one.
Who should attend this seminar ?
This seminar is intended for anyone who wants to learn about customer-oriented web, app and mobile design, including (but not limited to):
Managers responsible for large, complex commercial or government websites and intranets
Those responsible for designing such large websites
...
Now, check out the full programme of this event ...
And find out who presents this training ...
Questions about this ? Interested but you can't attend ? Send us an email !