Customer Obsession
---
How do you develop a customer obsession culture within your organisation ?
14 June 2018 (10-18h)
Location:
Parker Hotel
(Diegem)
Presented
in English
by
Gerry McGovern
Price:
720 EUR
(excl. 21% VAT)
Register Now » This event is history, please check out the List of Upcoming Seminars, or send us an email
Learning Objectives
Why do we organise this masterclass ?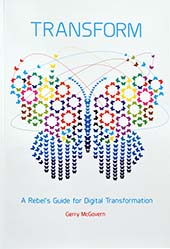 What makes Amazon, Google, Facebook and Slack so successful? Is it because they have amazing technology? Yes, partly. Is it because they have massive resources? Not really. Facebook and Google were founded by students, and most successful digital companies rose to prominence taking on much bigger and better resourced competitors.
The answer is Culture. Culture was absolutely critical to their success. A culture that was often radically different to the culture of traditional, physical-bound organisations. What is the right culture? And how do you nurture it in your organisation?
Our speaker Gerry McGovern has spent twenty years understanding and formalizing the components of a successful digital culture. His Top Tasks methods have been used by organisations such as Google, Dropbox, Toyota, GOV.UK, Microsoft, IBM, Cisco. He has spoken and consulted in 35 countries, and a lot of his ideas on a successful digital culture can be found in his latest book "Transform", that you get with your masterclass participation.
The short answer to what is the right culture is: customer obsession. It's not enough to be customer-focused today. You must be customer obsessed. Because that's the way Amazon, Google and Facebook think and operate. And, yes, they are your real competitors. Your customers' expectations are sky high and getting higher. They judge buying something online based on how they buy from Amazon. They judge searching for stuff based on how they search with Google. Your digital presence might be right in line with your competitors but totally out-of-sync with sky-rocketing customer expectations.
Changing culture is a journey. Learn how to transition from an organisation-centric culture to a customer-obsessed one:
| | | |
| --- | --- | --- |
| Organisation-Centric Culture | → | Customer-Obsessed Culture |
| Ego | → | Humility |
| Rigidity | → | Agility |
| Complexity | → | Simplicity |
What will you learn ?
This masterclass is about helping you become obsessed with your customers, not your competitors. As such,

our speaker Gerry McGovern will teach you:
How to become more humble, agile and simple
Tried-and-tested methods to identify what matters most to your customers (their top tasks)
How to measure how well your customers are able to complete these top tasks with you
Who should attend this masterclass ?
This masterclass is targeted at managers of digital teams, customer experience and content professionals, online marketeers, but everyone who is interested in digital leadership or involved in digital transformation will benefit from this masterclass.
Participants of this masterclass also get a free, signed copy of Gerry's latest book "Transform: The Rebel's Guide for Digital Transformation".
Full Programme
9.30h - 10.00h
Registration and welcome of the participants with Coffee/Tea and Croissants and Networking Opportunity

10.00h
Session 1: Humility
From organisation-centric to customer-obsessed
From ego-based hierarchy to evidence-based
From product culture to service culture
From stand-alone projects to rapid, continuous iteration
From built to last, to built to change
From silos to multidisciplinary, cross-functional collaboration
Around 13.00h
Lunch Buffet and Networking Opportunity
From addition to subtraction
From making it easy for the organisation to making it easy for the customer
From fake news to facts and truth
Session 4: Manage the customer task
From input-based to customer-outcome metrics
Quantifying the customer experience with top tasks
Measuring customer time and effort
17.30-18.00h
Q & A, Summary and Conclusions
18.00h
End of this Workshop
Speakers

For more than 20 years, Gerry McGovern has helped large organizations in more than 35 countries use digital to develop a customer-centric culture. He has written six books on the digital customer experience. His latest book is called Transform: A Rebel's Guide for Digital Transformation. He has worked for Toyota, Microsoft, Cisco, NetApp, VMware, IBM, and the US, UK, EU, Dutch, Canadian, Norwegian, and Irish governments.
He is the founder and CEO of Customer Carewords, a company that has developed a set of tools and methods to help large organizations identify and optimize their customers' top online tasks.
The Irish Times described Gerry as one of five visionaries who have had a major impact on the development of the Web. He has appeared on BBC, CNN and CNBC television, partaken in various radio shows, and featured in numerous print media publications. Gerry has spoken about top task management in more than 35 countries.
Various people has praised Gerry's work. 2 quotes:
"Gerry McGovern is a truly 'amazing' speaker: passionate and profound, hilarious and enlightening. A golden-tongued orator whose every utterance merits quotation, and a lone rational voice in a wilderness of self-defeating, self-interest and inverse prioritization. He fights a never-ending battle to bring reason and utility to our websites by focusing relentlessly on your user's most important tasks." (a quote by Jeffrey Zeldman - A List Apart, Happy Cog, A Book, An Event Apart)

"Gerry McGovern always delivers talks and workshops that our audiences love. He has given the best rated talk at Webdagene ever (in 2008) and he gave the best rated talk at Webdagene in 2015. Great content and great outcome." (a quote by Sesilie Halland - Manager Webdagene / conferences by Netlife Research). There is also a great video of his most recent presentation at Webdagene on Vimeo.
Questions about this ? Interested but you can't attend ? Send us an email !