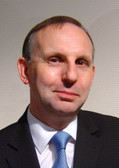 The Corporate Strategy for IT
---
Chris Potts presents a framework for deeply integrating IT with corporate and business strategies
28-29 October 2009 (14-21h)
Location:
Pullman Diegem
(Diegem)
Presented
in English
by
Price:
1350 EUR
(excl. 21% VAT)
AGENDA »
SPEAKERS » This event is history, please check out the List of Upcoming Seminars, or send us an email
Check out our related in-house workshops:
About this seminar:
Developments in IT and the world economy have changed the paradigm for corporate IT people and the strategies they lead. Consumers and business managers are increasingly confident at exploiting technology in ways that they value. Meanwhile, executives are determined to constrain IT spending, not always certain of what they get in return. The economic climate makes it even more important to understand the links between value creation and IT costs.
The Corporate Strategy for IT harnesses the energy of business-led strategies for exploiting IT, to create maximum total value. It also makes transparent the linkages between business decisions and IT costs - often with some very surprising results.
This seminar provides a proven framework for deeply integrating IT with corporate and business strategies, and explores its impact on investments, operating costs, Enterprise Architecture, organisation, and sourcing.
This seminar will help you to:
Explore the four generations of Corporate Strategy for IT
Assess which generation of strategy for IT your organisation currently has
See how to rapidly formulate a strategy for IT that your Board will understand
Implement new tactics for collaborating with business executives and managers
Transform IT costs and budgets into a portfolio of investments in business change
Maximise the contribution of IT expertise to business innovations and investments
The content of this seminar is entirely founded on Chris's practical work with leading companies around the world, is based on real-life examples, and does not require technical IT knowledge. There will also be group discussions and reflections on the techniques that are proposed to (re)formulate your Corporate Strategy for IT. Chris's seminars regularly receive 10/10 for content and style. All participants receive a free copy of his thought-provoking book fruITion (Technics Publications, 2008, ISBN: 978-0977140039).
Why should you attend this seminar ?
Many delegates who have already attended this seminar find that it permanently changes their understanding of what Corporate Strategies for IT are all about. Taking a strategic business perspective of IT, the seminar reviews where the IT market currently stands. What does this mean for existing and new investments in IT, and for IT organisations ?
The seminar will show you the innovations that industry-leading companies have used to redraw and enhance the relationship between IT people, and IT investments, and the wider business. See why organisations are finding that older generations of Corporate Strategy for IT are now inhibiting the value they can create from IT, and explore the current and future generations of strategy.
Who should attend this seminar ?
This is a seminar for everyone involved in IT-related business decisions. There is no technical IT content, and it is designed for:
CIOs
Corporate and Business Strategists
IT Strategists
Business/IT Relationship Managers
Enterprise Architects
Business Analysts
Non-IT Executives and Managers who invest in IT, or who have IT costs
AGENDA »
SPEAKERS »
Questions about this ? Interested but you can't attend ? Send us an email !