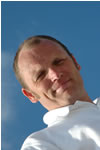 Ontwikkelstraten voor .NET
---
Development infrastructuur voor en organisatie van ontwikkelteams in een .NET omgeving
15 November 2005 (14-21)
Location:
Sofitel Diegem
(Diegem near Brussels (Belgium))
Gepresenteerd
in het Nederlands
door
Prijs:
540 EUR
(excl. 21% BTW)
AGENDA »
SPREKERS » This event is history, please check out the List of Upcoming Seminars, or send us an email
Check out our related open workshops:
Check out our related in-house workshops:
Volledig Programma:
13.30u - 14.00u
Registratie en ontvangst van de deelnemers met Koffie/Thee en Croissants
14.00u - 14.30u
Introductie
(Sander Hoogendoorn, Capgemini)
Ontwikkelstraten voor .NET: Wat is eigenlijk een ontwikkelstraat? Waarom heeft u een ontwikkelstraat nodig?
Process, people en technologie: De talrijke bouwstenen van een .NET ontwikkelstraat.
Aan de slag: Stapsgewijs inrichten van een .NET ontwikkelstraat.
14.30u - 15.15u
Ontwikkelmethodologie
(Sander Hoogendoorn)
Traditionele systeemontwikkelmethoden: Waarom waterval niet werkt.
Agile software development: Proces, principes en technieken. Een praktische inleiding in agile software development.
Agile systeemontwikkelmethoden: eXtreme Programming, Smart, DSDM, Scrum en MSF Agile.
Agile systeemontwikkeling in de praktijk: Voorbeelden en alledaagse best practices. Wat betekent kiezen voor agile software development?
15.15u - 15.45u
Team System in de Praktijk
(Artur Pereira, Capgemini)
Wat is Visual Studio Team System?
Welke faciliteiten biedt Team System voor het opzetten van ontwikkelstraten en het ondersteunen van methodieken?
Moet ik mijn huidige methodiek overboord zetten als ik Team System ga inzetten?
Hoe kan ik mijn eigen methodiek met Team System gebruiken?
Van vijf workitems tot CMMI: kwaliteit en de ontwikkelstraat.
15.45 - 16.15u
Pauze met Koffie/Thee
16.15u - 16.45u
Infrastructuur
(Roy Dictus, Agility Consulting Group)
begroten/dimensioneren van infrastructuur: hoeveel servers / machines nodig...
omgevingen: development, test, quality assurance, production
virtualisatie en deployment
16.45u - 17.00u
Daily Build
(Anko Duizer, Class A)
Wat is een daily build?
Waarom een daily build?
Hoe kan een build proces worden gerealiseerd?
Wat betekent de build voor een ontwikkelaar?
The next level: continuous build
17.00u - 17.45u
Patterns en Practices: Architectuur, Standaarden en Richtlijnen
(Anko Duizer, Class A)
Wat is een architectuur?
Waarom een onderdeel van een ontwikkelstraat?
Enterprise architectuur
Applicatie architectuur
Services
Architectuur: het proces
18.45u - 19.45u
(Open Source) Frameworks en Third-party tools: een case study
(Bart Strubbe)
Open-source frameworks in projecten: sterkten en zwakten
tools en best practices voor

presentation tier: gebruik van XHTML/CSS, ASP.NET Codebehind, eigen componenten-library
business tier: POCO-based, IoC-container: Spring.NET ea, AOP voor cross-cutting aspects
persistence tier: ORM-frameworks, NHibernate

Tools en best practices voor

Unit testing: NUnit
Build: NAnt
Continuous integration: Cruisecontrol .Net
Refactoring in .NET: Resharper

Blueprint architectuur:

POCO architectuur binnen IOC container
succesvolle frameworks uit de Javawereld vandaag succesvol op .NET
porteerbaarheid van architectuur blueprints tussen .NET en Java
visueel modelleren
19.45u - 20.30u
Organisatie van het ontwikkelteam
(Sander Hoogendoorn, Capgemini)
Rollen en verantwoordelijkheden: De verschillende rollen in een (agile) .NET project.
De nieuwe klant: Welke rol speelt de klant in het welslagen van uw systeemontwikkelprojecten?
Moderne projectleiders: De rol van de projectleider in agile software development.
Naadloos testen: Naadloze integratie van testen - en testers - in uw systeemontwikkelprojecten.

20.30u-21.00u
Toekomst
(Sander Hoogendoorn, Capgemini)
Service-oriented architecture. Wat is het? Wat hebben we eraan? Hoe houden we er rekening mee in onze ontwikkelstraat?
Model driven architecture. Microsoft en modelleren? UML of DSL? Code genereren: hoge productiviteit of hoge complexiteit?
Truth or dare. Microsoft en open source.
Het imperium Microsoft. Where do you want to go today? Where do you want to go tomorrow?
21.00u
Einde van dit seminar
SPREKERS »
Vragen hierover ? Geïnteresseerd maar u kan niet deelnemen ? Stuur ons een email.