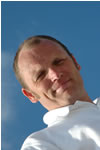 Ontwikkelstraten voor .NET
---
Development infrastructuur voor en organisatie van ontwikkelteams in een .NET omgeving
26 April 2006 (14-21)
Location:
Sofitel Diegem
(Diegem near Brussels (Belgium))
Gepresenteerd
in het Nederlands
door
Prijs:
540 EUR
(excl. 21% BTW)
AGENDA »
SPREKERS » This event is history, please check out the List of Upcoming Seminars, or send us an email
Check out our related open workshops:
Check out our related in-house workshops:
Leerobjectieven:
Waarom dit seminar?
Succesvolle software ontwikkeling is het resultaat van een veelheid aan factoren: de samenstelling van het ontwikkelteam, de methodologie, gebruikte tools, en een aangepaste infrastructuur.
Het reproduceerbaar maken van deze kenmerken is het doel van het inrichten van een ontwikkelstraat: standaardiseren op bepaalde architectuur en frameworks, code-richtlijnen en templates, de keuze van een methodologie.
Bij het invoeren van een nieuwe technologie is het vaak een tijd zoeken en aftasten van de nieuwe omgeving om een ontwikkelstraat op te bouwen. Om die zoektocht voor u drastisch te versnellen, hebben we gereputeerde sprekers samengebracht die hun ervaring zullen delen in één of meer aspecten van .NET ontwikkelstraten. Het seminarie "Ontwikkelstraten voor .NET" is dan ook een must als u .NET heeft ingevoerd of gaat invoeren en u kostbare tijd wil besparen.
Voor wie is dit seminar bestemd ?
Projectleiders en senior developers
Software development managers.
We besteden tijdens dit eendaagse seminar onder andere aandacht aan:
business case voor het inrichten van een ontwikkelstraat
agile software development en het door Microsoft gepromote MSF Agile
Best Practices in Team System
dimensionering en opzetten van de hardware voor de ontwikkelomgeving
software architectuur en standaarden
(open source) frameworks
coaching van het ontwikkelteam
AGENDA »
SPREKERS »
Vragen hierover ? Geïnteresseerd maar u kan niet deelnemen ? Stuur ons een email.