Best Practices, Patterns en principes in .NET
Prijs: 480 EUR (excl. 21% BTW)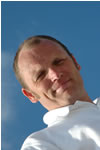 This event is history, please check out the List of Upcoming Seminars
These related seminars and workshops may also be of interest to you:
Leerobjectieven:
Waarom dit seminar?
Microsoft .NET is de snelst opkomende ontwikkelarchitectuur van de afgelopen, en waarschijnlijk ook van de komende jaren. Gartner schat dat circa 40% van alle projecten wordt uitgevoerd met .NET. Sander Hoogendoorn heeft, als Principal Technology Officer bij Capgemini, vanaf het prilste begin kennis en ervaring opgebouwd met deze technologie.
Deze kennis en ervaring betaalt zich terug in dit eendaagse seminar, waarin Sander een brede collectie aan principes, patronen en best practices heeft verzameld.
Het seminar is doorspekt met design patterns, onder andere van Gamma en Fowler en uit Sanders boek "Pragmatisch modelleren met UML". Uiteraard kent het seminar veel demo's en praktijkvoorbeelden in code uit bestaande applicaties.
Voor wie is dit seminar bestemd ?
Software-architecten, designers, senior developers en framework developers zullen veel inspiratie halen uit dit seminar. Het gaat niet over de technologie van .NET, maar over hoe .NET pragmatisch is in te zetten in uw projecten. Het seminar biedt talrijke ideëen die uw eigen organisatie kan aanwenden en die leiden tot het effectiever, cleaner en productiever ontwikkelen van (web)applicaties.
Sander Hoogendoorn besteedt tijdens dit eendaagse seminar onder andere aandacht aan:
requirements en use cases,
het generiek opzetten van een applicatiearchitectuur,
web user interfaces,
het gebruik van user controls,
het implementeren van use cases,
het organiseren van bedrijfslogica,
de relatie tussen bedrijfslogica en de database
het inrichten van namespaces.
Bekijk nu het volledige programma ...
En bekijk wie deze opleiding presenteert ...
Vragen hierover ? Geïnteresseerd maar u kan niet deelnemen ? Stuur ons een email.