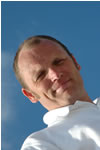 Pragmatic Development in .NET
---
Patterns and Best Practices in .NET
23 March 2005 (14-21)
Location:
Sofitel Diegem
(Diegem near Brussels (Belgium))
Presented
in English
by
Price:
480 EUR
(excl. 21% VAT)
AGENDA »
SPEAKERS » This event is history, please check out the List of Upcoming Seminars, or send us an email
Check out our related in-house workshops:
Why this seminar?
Microsoft .NET is the fastest growing development platform at the moment and probably for some years to come. Gartner estimates that in 2005 about 40% of all projects will be run with the .NET platform. As a partner at Ordina specialized in system development, Sander Hoogendoorn has started using and exploring .NET from its early days.
SMART, a development method Sander laid the foundations for, was used in the first .NET projects in the Netherlands. This knowledge and experience resulted in this one-day seminar, where Sander will present a variety of patterns, development ideas and best practices. Patterns are being taken from Gamma and Fowler, but also from Sander Hoogendoorn's book "Pragmatisch modelleren met UML 2.0" (Dutch edition only so far). And of course the seminar will be illustrated with code samples and demos from real-life applications.
Who should attend this seminar ?
Software-architects, designers, senior developers en framework developers will gain a lot of inspiration by this seminar.
It does not focus on .NET as a technology, but rather on how to use .NET in a pragmatic way in your projects. The seminar offers a wealth of ideas you can use in your own team or organization and will help in writing (web) applications more effectively, cleanly and productively.
Sander Hoogendoorn will discuss
requirements and use cases,
designing an application architecture,
web user interfaces,
user controls,
implementing use cases,
dealing with business logic,
the relationship between business logic and the database
... and setting up namespaces.

AGENDA »
SPEAKERS »
Questions about this ? Interested but you can't attend ? Send us an email !