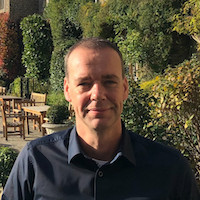 Data Vault in a Day
---
AGENDA »
SPEAKERS »
Why do we organise this course on Data Vault and Enterprise Data Warehousing (EDW) ?
Data Vault modelling is quickly becoming the standard approach for modelling the data warehouse. Compared to other popular approaches, Data Vault modelling represents a paradigm shift - a new way of thinking. Realising the full benefits of this approach means embracing this new paradigm in its entirety.
This course is designed to give you a consistent and clear message of the fundamentals of the Data Vault modelling paradigm. It is much more than an introduction: you get a sound and practical overview of the features - in a single day. Because there is so much to say about Data Vault, you also get a lot of exclusive background information, supporting your learning during and after this seminar. The seminar ends with an "assessment exercise" to test your knowledge and understanding of Data Vault.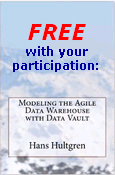 This course, the background reading material and the assessment test are designed by Hans Hultgren, founder of Genesee Academy and author of the book "Modeling the Agile Data Warehouse with Data Vault (Volume 1)". You get this book free with you participation.
What will you learn in this Data Vault Modelling workshop ?
This course is intended as an initial introduction into the data vault modelling approach. Next to a global introduction, this course covers the modeling components of the data vault - the Hub, Link and Satellite. These components will be illustrated and trained via group exercises. The course ends with an assessment test to see if you have understood the basic theory and practice of Data Vault modelling.
This training is intensive and interactive. During this one-day course we cover:
What is Data Vault ?
Why do we need it ?
What are the major concepts of Data Vault ?
How does a Data Vault model look like ?
How does it work ?
What are core business concepts and enterprisewide business keys ?
What are hubs, Links, Satellites, backbone models, ... ?
What are the parts that make up data vault ?
What are the benefits of using this approach ?
What are source-driven and business-driven semantics ?
How do we deal with historical data ?
How do you apply Data Vault to your own data warehouse program ?
We also discuss the benefits of using this approach and some guidelines as to how we can apply Data Vault modelling to our own data warehouse program. In addition this course covers data warehousing business intelligence considerations that support these techniques as well as some practical modelling topics.
Who should attend this seminar ?
This course is intended for business intelligence and data warehousing professionals seeking a strong introduction to Data Vault modelling. In addition, the course is well suited for those who have heard about Data Vault or are just starting a Data Vault project and who are interested in learning what it means.
This includes but is not limited to:
Data and Information Modelers
Data and Information Architects
Business Analysts
Business Intelligence and Data Warehousing managers
Designers, project leads and project owners
Data Warehousing Database Administrators (DW DBAs)
Data Mart designers
Integration Experts and ETL Developers
Functional Area Representatives
...
Because the data vault concepts are closely aligned to the business, those working on data warehousing and business intelligence from both business and technical perspectives will benefit equally from this course.
AGENDA »
SPEAKERS »
Check out our related open workshops:
Check out our related in-house workshops:
dit is een inhouse
Questions about this ? Interested but you can't attend ? Send us an email !