Applied Enterprise Architecture Concepts
---
Take a flying start into enterprise architecture with this (airline-case-based) intensive workshop that links strategy, business and technology
22-25 March 2011 (10-18)
Location:
Golden Tulip Brussels Airport
(Diegem)
Presented
in English
by
Price:
2400 EUR
(excl. 21% VAT)
AGENDA »
SPEAKERS » This event is history, please check out the List of Upcoming Seminars, or send us an email
Check out our related in-house workshops:
About this workshop:
Based on the book, which you received during the "Fundamentals of EA" workshop:
Enterprise architecture is not a goal, but an essential instrument to improve communication, alignment and cooperation between business and IT. This workshop will show you that building an EA involves a lot of communication with business responsibles about e.g. strategy, mission and vision, ...; with domain and business experts about business initiatives, products and services; with business process experts about business operations; with HR about roles and responsibilities; with IT about systems, applications, networks, databases, etc; without forgetting cross-cutting experts in security, governance, business continuity, standardisation and innovation.
Building an EA is not a simple task and it obviously takes more than 4 days, but we will show you what is involved, the tips and tricks to do it better and faster, and how you can tackle some of the problems and caveats that you will undoubtably encounter.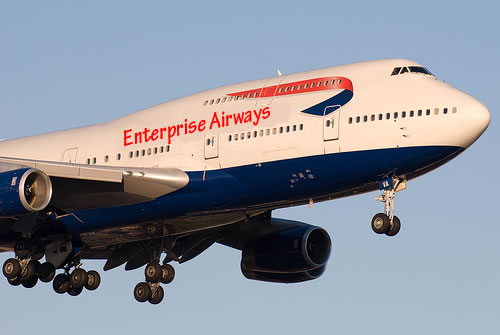 Imagine yourself as a member of the enterprise architecture team of the large airline company of "Enterprise Airways" (EA). Airline companies are operating in a highly competitive and ever-changing market, with very demanding customers and strict regulations by governments, the FAA, etc.
This workshop will teach you how to apply enterprise architecture concepts through a class-wide architecture project that develops a web-based EA repository and integrated set of basic EA artifacts.
These artifacts will document/model strategic initiatives and measures; business requirements for processes and services; and supporting technology solutions including information systems, applications, databases, websites, networks, security, and standards. The course will also cover best practices to develop EA artifacts in a manner that promotes linkage between the strategic, business, and technology. After all, EA = S + B + T.
Why should you attend this workshop ?
This workshop is very practical and guides you through the process of constructing & finding many artifacts of your current as-is architecture.
During the group-based exercises, discussions within your team and with other teams will be very useful and reflect real-world discussions
You will learn how to approach the to-be architecture and how this impacts your current architecture
This workshop contains the following parts:
Day 1: Getting up to speed

What is Enterprise Architecture ?
Enterprise Architecture Defined
EA Inputs and Drivers
EA Outcomes
EA Activities
EA Core Elements
Introduction to the "Enterprise Airways" case study

(this is a very intensive day, hope you are well-prepared and have had enough sleep)
Day 2: Documenting Sub-Architectures

Strategy Sub-Architecture: strategic plan, SWOT analysis, concept of operations (CONOPS), Balanced Scorecard, strategy map
Business Sub-Architecture: Business plan, process diagram, activities, business use cases, ...
Data Sub-Architecture: knowledge management plan, information exchange and CRUD matrix, data models, data dictionary, ...
Systems and Applications Sub-Architecture: interfaces, communication, data flow, performance, data exchange, ...
Network and Infrastructure Sub-Architecture: connectivity diagrams, inventories, ...
Security Sub-Architecture: security plan and solutions, continuity of operations, disaster recovery
Standards Documentation
Workforce Documentation: workforce plan, org chart, knowledge and skills

Day 3: Implementing Sub-Architectures

Implementing the Strategy, Business, Data, Application Sub-Architecture
Putting Strategy & Business and Data & Systems Artifacts in an EA repository
Implementing the Network and Security Sub-Architecture & Putting it in the EA repository
Day 4: Where do you go from here ?
Current and future architectures and views
Target architecture workshop
Reviewing an EA Management Plan
Why should you attend this practical enterprise architecture workshop ?
Following this workshop, participants will be better prepared to participate in and add value at an intermediate level in EA projects in private and public sector organizations, including documentation, modeling, archiving, tool use, and task accomplishment. This will result in improved EA program success, higher quality EA products, improved communication with EA program stakeholders, and increased EA value delivery.
At the end of the 4-day "Applied Enterprise Architecture Concepts" workshop, participants will receive an attendance certificate issued by I.T. Works and EA Fellows.
Who should attend this practical enteprise architecture workshop ?
This workshop is particularly useful for anyone who is involved in enterprise architecture.
This includes, but is not restricted to Business Managers, Program Managers, Technology Managers, Technical Staff.
This workshop is organised in cooperation with

and EA Fellows. The number of participants is limited to 16 for maximum interaction and learning experience. During this workshop, free wifi Internet access will be available to our participants.
About the Enterprise Architecture Certification Programme
Are you looking to expand your knowledge of Enterprise Architecture (EA) ? Are you trying to control business and technology development projects ? But you don't know for sure if your line-of-business applications support your business goals ? Do you need to learn EA best practices, so that you can maximize the benefits of EA for your organization ?
If so, then the new Enterprise Architecture Certification Program, offered by EA Fellows and by Carnegie Mellon University's Institute for Software Research International (ISRI), one of the world's leading IT education and research centers, and organised by I.T. Works in Belgium, is the program for you. "It is an honour and a pleasure to launch the EA-certification programme developed by Carnegie Mellon University here in Europe. Over the past several years, the demand for EA-competencies in Europe has increased tremendously, and it is time to roll out professional certification here now", says Dr. John Gøtze, the International President of the Association of Enterprise Architects, and instructor of the certification courses.
This Enterprise Architecture certification program will give you the knowledge and skills you need to successfully implement an EA initiative in the public or private sector. You will learn EA concepts, best practices, and tools from experienced Carnegie Mellon certified instructors. The Certification Program is built from three intensive courses which provide a comprehensive development program for Enterprise Architects: the "Fundamentals of Enterprise Architecture" course, this "Applied Enterprise Architecture" course and the "Advanced Enterprise Architecture". You will attain "Certified Enterprise Architect" status after passing three intensive exams for each of these courses.
AGENDA »
SPEAKERS »
Questions about this ? Interested but you can't attend ? Send us an email !