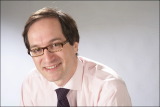 Ir. Peter Hinssen is een entrepreneur, spreker en schrijver. Hij is voorzitter van Porthus NV dat hij mee opstartte in 1999. Porthus is een toonaangevende leverancier van OnDemand IT-oplossingen. Daarnaast is Peter mede-oprichter van Across Technology, een consultancybedrijf voor IT strategie, Business/IT Alignment en Change Management.
In 1995 startte Peter zijn Internetactiviteiten als oprichter van e-COM, een Internet Agency dat zich vooral richtte op de Intranet/Portal markt en dat in 1999 werd overgenomen door Alcatel, en tot Alcatel e-COM en later The e-Corporation werd omgedoopt. Vanaf 2000 werd Peter Entrepreneur in Residence bij McKinsey & Company waar hij twee jaar werkte rond entrepreneurship, e-government en business/IT alignment.
Peter werkte samen met John Henderson ('Strategic alignment between business and IT'), Nicholas Carr ('IT doesn't matter') en Peter Weill ('Enterprise Architecture as Strategy') in projecten rond strategische alignment voor klanten als ING, FORTIS, Johnson & Johnson en de Royal Bank of Scotland.
Zijn boek "Business/IT Fusion. How to move beyond Alignment and transform IT in your organization" rolde in december 2008 van de persen. Dit 280 bladzijden tellende, schitterend geïllustreerd hardcover boek wordt uitgegeven bij Mach Media NV, ISBN: 9789081324236) en u vindt het ook op Amazon.