Enterprise Content Management
---
Concepts, business case, technology for structuring and managing information, Web content and documents.
3 March 2005 (14-21)
Location:
Sofitel Diegem
(Diegem near Brussels (Belgium))
Presented
in English
by
Price:
480 EUR
(excl. 21% VAT) This event is history, please check out the List of Upcoming Seminars, or send us an email
Check out our related in-house workshops:
Learning Objectives
Why this seminar ?
Document management systems have been around for over 15 years in the corporate software landscape. The arrival of the Web created a need for a new breed of applications to maintain the content of websites in an efficient way: the so-called Web Content Management Tools.
These Document management and Web Content management markets is now fading into what's been called "Enterprise Content Management". It encompasses creation, management and publication of corporate content in all its forms: documents stored as blobs, as well as XML files, relational database systems or repositories for document components (chunks of reusable content, to be reassembled in one or several documents for output. Also niche activities such as digital asset management, Product Information Management and source control are branded as ECM.
The common goal of these activities is to make content creation (being a labour-intensive thus expensive activity) show a higher return by better (re)use. Enterprise Content Management is crucial for any company, not just for the publishing industry it is often associated with.
Several vendors build on their traditional activity and try to become the main reference for this new integrated vision. However, since content management is so tightly linked to business processes, it is crucial to analyze the content flow within your organisation, and how it can be put to better use. Only then the appropriate tool can be selected. As for the tool selection itself, the openness of the technology cannot be underestimated, at least if you do not want to meet with expensive surprises in this swiftly evolving market. In order to help you with this, we've brought together excellent speakers with an impressive track record and selected a variety of interesting case studies.
Questions answered during this seminar
What are the important concepts in enterprise content management ?
How do I analyse the requirements for content and document management within my own organization ?
How does Enterprise Content Management add up to the need of compliance and regulation (eg. Sarbanes-Oxley Act) ?
What technologies and methods can help me in creating, managing and publishing content ?
What are the pro's and cons of the available (E)CM tools, and what functionality matches which kind of content? How open are these environments ?
Shouldn't I invest in re-engineering the information flow within the company rather than (merely) in expensive tools?
How to structure and prepare content in such a way that it can be easily searched (and navigated) through?
Build versus Buy: a relevant question in Content Management ?
Should I look into open source solutions and where do I find the expertise for them ?
Check out our Enterprise Content Management resource center!
Who should attend this seminar ?
Intranet, e-business, knowledge management project responsibles with an interest in content management.
Document and content management project leaders.
Information and communication managers
Full Programme
13.30h-14.00h
Registration, Coffee/Tea and Croissants
14.00h-15.30h
Enterprise Content Management: Introduction, Positioning, Concepts and Technology
(Peter Hinssen)
Introduction: information maturity model, structured vs. unstructured content, ...
Business drivers: compliance, Sarbanes-Oxley Act (SOX), efficiency improvement, ...
Positioning: what is the place of Content Management in the IT landscape?
ECM vs. Smart Enterprise Suites
Enterprise content management as the integration of traditional document management, web content management, digital asset management and document component mgt.
Concepts:

Locking / check in / check out
Versioning & Branching
Meta-data / Categorising / classification
Lifecycle & Workflow
Access control/Security
Digital Rights Management
Snapshots (publication)
Searching

An ECM Architecture:

Content creation...
management...
and delivery (typically via an enterprise portal)

ECM technologies: XML, WebDAV, application servers, portals, ...
ECM business case
16.00h-16.45h
Introduction to Information Architecture: how to make Information Accessible?
(Paul Hermans, Amplexor)
structuring and organizing information

by subject, by chronology, ...

labeling information
navigation systems
background utilities

metadata
controlled vocabularies, thesauri, taxonomies
16.45h-17.30h
Case Study: KBC
(Wim Perdieus, Information Architect, KBC )
In a corporation, there are typically many types of content, each requiring their own approach. Wim Perdieus explains how - depending on the lifetime, cost of content production, target audience and the skills of the contributors - KBC finally chose to automate Content Management with 2 different intranet applications:

KBCiNet is used for the internal distribution of nice to know information
The Kennisbank is for the internal distribution of instructions and extra information to large target audiences

For every system, we focus on a number of aspects, such as organisation, workflow, versioning, the publication process, search functionality, technical setup and integration with other systems
We conclude with a look at future developments and their motivation.
18.45h-19.45h
ECM Tools: Market Overview and Comparison
(Peter Hinssen)
Market overview: Documentum, SAP, IBM, Hummingbird, ...
Vendor selection and "Buy versus build":

Off-the-shelf packages versus customised solutions
What open source options are available?
19.45h-20.15h
Web Content Management (WCM) tools
(Peter Hinssen)
How to deal with legacy conversion: 1st-generation static websites and Intranets
Content input, management and presentation in WCM
Budgeting web projects
Specific selection criteria for Web CMSes
Market overview: Interwoven, Vignette, Tridion, Stellent, Serena Collage, Microsoft SharePoint, Mediasurface Morello, ...
20.15h-20.45h
Organisation and Processes
(Peter Hinssen)
Project management
Internal staffing
The integrator's perspective
Do's and Don'ts in ECM
20.45h-21.00h
Roundup of this seminar, Conclusions & Summary, Final Questions and Answers
21.00h
End of this seminar
Speakers


Paul Hermans is Head of Information Architectures and Partner at Amplexor, a company that specialises in Enterprise Content Management. He was founder and manager of Pro Text, a well-known SGML/XML consultancy company that has become part of Amplexor since 2003. Previously, he was the manager of the electronic publishing department of CED Samson, a
part of the Wolters Kluwer group. Since 1992, he was involved in many important Belgian SGML/XML projects at SWIFT, KBC, SD-Worx, Indicator, Union Minière, Barco, Philips, ...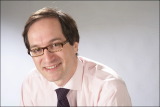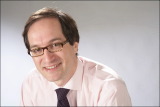 Ir. Peter Hinssen is an entrepreneur, lecturer and writer. Currently, he is chairman of Porthus NV, which he co-founded in 1999. Porthus is one of the leading providers of OnDemand IT solutions. Peter is also co-founder of Across Technology, a consultancy company for IT Strategy, Business/IT Alignment and Change Management.
In 1995, Peter started his Internet ventures by launching e-COM, an Internet Agency that focused on the Intranet/Portal market and was acquired in 1999 by Alcatel, and which was renamed to Alcatel e-COM and later to The e-Corporation. From 2000 he was Entrepreneur in Residence with McKinsey & Company, where he worked for 2 years on entrepreneurship, e-government and business/IT alignment.
Peter worked together with John Henderson ('Strategic alignment between business and IT'), Nicholas Carr ('IT doesn't matter') and Peter Weill ('Enterprise Architecture as Strategy') in strategic alignment projects for e.g. ING, FORTIS, Johnson & Johnson and the Royal Bank of Scotland.
He just finished the book "Business/IT Fusion. How to move beyond Alignment and transform IT in your organization" (published by Mach Media NV, ISBN: 9789081324236, 280 pages, hardcover).
Questions about this ? Interested but you can't attend ? Send us an email !