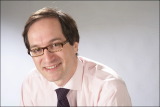 Enterprise Portals
---
Een gepersonaliseerde en gebruiksvriendelijke interface die informatie, applicaties en processen centraliseert waardoor u uw job beter en produktiever kan uitvoeren.
29 September 2004 (14-21)
Location:
Business Faculty Brussel
(Neder-over-Heembeek)
Gepresenteerd
in het Nederlands
door
Prijs:
480 EUR
(excl. 21% BTW)
AGENDA »
SPREKERS » This event is history, please check out the List of Upcoming Seminars
Check out our related in-house workshops:
Volledig Programma:
13.30u - 14.00u
Registratie, Koffie/Thee en Croissants
14.00u
Start van dit seminar
14.00u-14.45u
Introductie: wat zijn enterprise portals en waarvoor zijn deze nuttig ? (Peter Hinssen, Porthus)
Wat is een enterprise portal ?
Waar komt dit idee vandaan ?
Van Intranet naar enterprise portal
Een classificatie van portals - verschillende portals voor verschillende categorieŽn gebruikers ?
Portals en content management
Typische user requirements
De ROI van portals
14.45u-15.30u
Onderliggende TechnologieŽn van Enterprise Portals (Peter Hinssen, Porthus)
De portal presentatie laag: Web interface, mobiele toegang, ...
Personalisatietechnieken
De taxonomie uitdaging
De portal directory
Portal content management
Applicatieservers
Search tools en semantic engines
Security: access control, authenticatie en single sign-on
Portal adapters om functionaliteit toe te voegen en applicaties
te integreren: portlets, Web parts, gadgets, iViews, ...
Web-gebaseerde collaboratie-oplossingen
Reliability en availability issues
De keuze van de juiste tool voor de job
15.30u-16.00u
Koffie/Thee en versnaperingen
16.00u-16.30u
Collaboration, Workflow, Processen en Portals (Peter Hinssen, Porthus)
Workflow en collaboratie als onderdeel van portals, en de mogelijke synergie die hierdoor ontstaat
Web-gebaseerde collaboratie-oplossingen, bv. samenwerken aan projecten, documenten, ... via een portal
Wordt 2004 het jaar van de "process portal", m.a.w. worden de best practices in uw business processen ooit vastgelegd in uw portal ?
Welke vragen moet u stellen aan een portal framework vendor over "process automation" ?
16.30u-17.30u
Marktoverzicht (Peter Hinssen, Porthus)
Evolutie van de markt
Gespecialiseerde aanbieders van portal oplossingen: Citrix NFuse, Hummingbird, Plumtree, Portal Software, Viador, ...
Wat bieden de grotere spelers op de softwaremarkt vandaag aan:

IBM WebSphere Portal Server
BEA WebLogic Portal
SAP Portals en Netweaver
Microsoft SharePoint Portal Server
Oracle9iAS
Sun ONE Portal Server
Computer Associates CleverPath Portal
Sybase Enterprise Portal (EP)
...

Andere portal leveranciers zoals Broadvision, Vignette, ...
17.30u-18.15u
Case study: Wholesale E-Banking
(Dirk Van Boxem, IT Manager WeB Program,
ING
)
Met WeB biedt ING een B2B portal aan haar klanten die Europawijd één interface op maat van de klant geeft op de verschillende diensten van de bankgroep.
Dirk Van Boxem legt uit waarom ING haar dienstverlening integreert in de functionaliteit van één portal, en de (complexiteit van de) verschillende nationale vestigingen voor de (bedrijfs)klant verbergt.
19.15u-20.00u
Case Study: Workflow automatisering bij ontwikkeling van medisch materiaal
Ethicon, een Johnson & Johnson dochter, is producent van (voornamelijk) chirurgisch hechtgaren en dus onderworpen aan strenge audits voor het beheer van alle informatiesystemen die mogelijk impact hebben op de kwaliteit van haar producten.
Peter Smets (IM Operations Manager Global Supply Chain) licht toe hoe Ethicon met een interne portal zorgde voor een automatisering van de workflow van haar systeemontwikkelingsproces met geintegreerd documentbeheer , elektronisch ondertekenen en een goede traceerbaarheid.
20.00u-20.45u
Hoe Implementeert u een Enterprise Portal, en hoe maakt u dit succesvol ? (Peter Hinssen)
Hoe pakt u een enterprise portal project aan ?
Wat is de impact op applicatie-ontwikkeling ?
ImplementatiestrategieŽn
Customisatie van uw portal om aan specifieke business noden te beantwoorden
Onderhoud van een enterprise portal
20.45u-21.00u
Samenvatting en Besluit
SPREKERS »
Vragen hierover ? Geïnteresseerd maar u kan niet deelnemen ? Stuur ons een email.