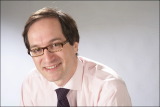 Enterprise Portals
---
A personalized and user-friendly interface that centralizes information, applications and processes to do your job better and more productively.
17 February 2005 (14-21)
Location:
Sofitel Diegem
(Diegem near Brussels (Belgium))
Presented
in English
by
Price:
480 EUR
(excl. 21% VAT)
AGENDA »
SPEAKERS » This event is history, please check out the List of Upcoming Seminars, or send us an email
Check out our related in-house workshops:
Why this seminar ?
Enterprise Portals have emerged as a very popular way for sharing information in a company and for enabling personalized self-service to their customers, partners and employees. Typically, portal users get a unified view on their job-specific business context (information, applications and know-how). But what do we exactly mean with this "buzzword" ? What are the most important application domains ? Is this not just another name to sell application integration software ? Where do we get the best return-on-investment (ROI) ? Is it in "Employee Self-Service" (ESS), which is a very popular business-to-employee (B2E) application ? Is it in business-to-business (B2B) environments, where we use the portal to streamline customer-relationship management (CRM) and supply-chain management (SCM) solutions ? And what happened to the business-to-consumer (B2C) portal implementations ? These and other questions will be answered during this unique one-day seminar.
There is currently a lot of activity in the extremely crowded enterprise portals market, because the big software players like IBM, SAP, Microsoft, Oracle, Computer Associates, Sybase, ..., and the more specialized portal players like Citrix, Hummingbird, Plumtree, ... are always trying to improve their products and outclass the competition. But what are their respective strenghts and weaknesses ? Which vendors will survive the ongoing market shakeout ? Despite the vendor consolidation, choosing the right enterprise portal product is still not an easy task. We hope that this seminar will give you guidelines and advice to make the right decision.
Of course, we will also focus on the implementation of enterprise portals and portal-ready applications in general, as well as the requirements to build a flexible and secure portal architecture, and to integrate this with back-end applications. Furthermore, we will also look at the impact on an organisation and its business process, and the critical success factors for an enterprise portal project.
All of this will be further illustrated by case studies, based on the practical experiences of designing and implementing such an enterprise portal.
Questions answered during this seminar
This seminar will answer these and other questions:
What is an enterprise portal ?
The business case: why do you need a portal ?
How can you organise content management and enterprise portals to effectively deliver a personalised experience ?
How do you manage a wide variety of portal content (both structured and unstructured), such as documents, files, links, HTML, XML, database content, applications data, images, etc ?
How do you enable users across your organisation to effectively contribute and administer portal content ?
How do portals handle access control and authentication ?
What are the most successful and the most rewarding enterprise portals ?
Check out our Enterprise Portals resource center!
Who should attend this seminar ?
This seminar will be very useful for:
Business executives who want to understand the business benefits and productivity impact of enterprise portals
IT Professionals who want to stay informed about the latest solutions for managing and organizing their organization's knowledgebase
Intranet managers who want to maximize the usefulness and effectiveness of their existing intranet
Intranet developers who need to know the best tools and the most effective approach for successful enterprise portal development
IT managers and directors who need to understand how an enterprise portal fits into an existing IT infrastructure
System integrators, management consultants, tools vendors, ... who want to understand why portals are the next phase in the evolution of Web application development and deployment
Anyone who wants to know how companies in a variety of industries are using portals to streamline their (e-)business activities

AGENDA »
SPEAKERS »
Questions about this ? Interested but you can't attend ? Send us an email !