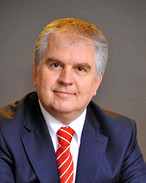 The Future of IT: the Next 20 Years
---
A look at the future of IT, in which IT will be an innovation-enabler and a game-changer
12 September 2012 (14-21)
Location:
Golden Tulip Brussels Airport
(Diegem)
Presented
in English
by
Price:
640 EUR
(excl. 21% VAT)
Register Now »
AGENDA »
SPEAKERS » This event is history, please check out the List of Upcoming Seminars, or send us an email
Check out our related open workshops:
Check out our related in-house workshops:
What is the purpose of this unique, exclusive event ?
20 years ago, I.T. Works was founded to offer vendor-independent seminars and workshops about IT topics that solve business problems, improve effectiveness and support decision making. We have seen many topics come and go, but we think that IT is only halfway in supporting the business and solving business problems. To recap what we have learned so far, and to show how we go ahead in improving the communication with the business, increasing the level of satisfaction and success of IT solutions, and tackling major trends such as SoLoMo (social, local, mobile), cloud computing, consumerization (Bring-Your-Own-Device and the new ways of working), Big Data, ... we have set up this exclusive seminar with various top speakers.
Our speakers will look forward to what is coming (the future trends in IT and business, as well as megatrends in our society) and how to prepare by seriously improving the communication with business stakeholders, innovating business models through the effective use of upcoming trends, transforming the IT department from a cost center to a value center, embracing the cloud and SoLoMo trends without losing control, ... If your company still wants to be alive and kicking in 20 years, some major changes will be needed in the role and strategy of your IT department, which will then probably be called "innovation department", "business/technology liaison", or perhaps "The department formerly known as the IT department".
If you are an IT decision maker who wants to know how to communicate and translate the newest trends in IT (big data, cloud, social, mobile, consumerization, ...) to your business, or a business decision maker in a company that heavily relies on IT and wants to make a difference by applying the latest and greatest trends in IT to achieve more business agility, higher customer satisfaction, better time-to-market and faster innovation than its competitors, you can't afford to miss this special event on the 12th of September.
Which questions will be answered during this seminar ?
What have we learned from the past 20 years in IT ?
What can your business learn from startups ?
Why do we think we are only halfway the IT revolution from cost center to a real value center ?
Why should innovation-thinking be an essential and integral part of IT ?
How can we improve business analysis ?
What are the major issues and challenges for CIO's ?
Who should attend this seminar ?
This seminar is aimed at the important group of business-aware IT decision makers and IT-aware business decision makers who understand that IT is not just an important enabler of the business, but can also be a game-changer. This seminar will explain to you that:
innovation, information and knowledge management are important challenges for the future,
good business analysis is crucial but still a challenge in many companies,
innovation and improvement is not an afterthought: everybody should be looking at how applications, processes, information flows and particularly customer interaction can be improved,
the IT department as we know it today will no longer exist in 20 years, but will be an integral part of the business.
We are looking forward to see CIO's, CFO's, COO's, IT managers, project managers, marketing managers, social media managers, change managers, knowledge managers, e-business managers, innovators, consultants, ... who want to discuss these issues, and learn more about how to tackle these issues to stay successful in the next 20 years. Moreover, you will be able to exchange ideas with a lot of colleagues from other companies who face the same challenges as yourself.
AGENDA »
SPEAKERS »
REGISTER »
Questions about this ? Interested but you can't attend ? Send us an email !