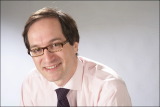 De Toekomst van ICT
---
Het jaarlijks overzicht van de belangrijkste ICT thema's
23 November 2006 (14-21)
Locatie:
Sofitel Diegem
(Diegem near Brussels (Belgium))
Gepresenteerd
in het Nederlands
door
Prijs:
540 EUR
(excl. 21% BTW)
AGENDA »
SPREKERS » This event is history, please check out the List of Upcoming Seminars, or send us an email
Check out our related open workshops:
Check out our related in-house workshops:
Sprekers: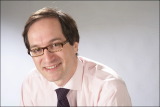 Ir. Peter Hinssen is een entrepreneur, spreker en schrijver. Hij is voorzitter van Porthus NV dat hij mee opstartte in 1999. Porthus is een toonaangevende leverancier van OnDemand IT-oplossingen. Daarnaast is Peter mede-oprichter van Across Technology, een consultancybedrijf voor IT strategie, Business/IT Alignment en Change Management.
In 1995 startte Peter zijn Internetactiviteiten als oprichter van e-COM, een Internet Agency dat zich vooral richtte op de Intranet/Portal markt en dat in 1999 werd overgenomen door Alcatel, en tot Alcatel e-COM en later The e-Corporation werd omgedoopt. Vanaf 2000 werd Peter Entrepreneur in Residence bij McKinsey & Company waar hij twee jaar werkte rond entrepreneurship, e-government en business/IT alignment.
Peter werkte samen met John Henderson ('Strategic alignment between business and IT'), Nicholas Carr ('IT doesn't matter') en Peter Weill ('Enterprise Architecture as Strategy') in projecten rond strategische alignment voor klanten als ING, FORTIS, Johnson & Johnson en de Royal Bank of Scotland.
Zijn boek "Business/IT Fusion. How to move beyond Alignment and transform IT in your organization" rolde in december 2008 van de persen. Dit 280 bladzijden tellende, schitterend geïllustreerd hardcover boek wordt uitgegeven bij Mach Media NV, ISBN: 9789081324236) en u vindt het ook op Amazon.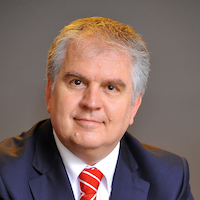 Rick van der Lans is onafhankelijk adviseur, docent en auteur op de terreinen datawarehousing, business intelligence, applicatie-integratie en databasetechnologie. Als consultant heeft hij door de jaren heen veel grote bedrijven (nationaal en internationaal) geadviseerd bij het ontwerpen van hun datawarehouse-architectuur en bij het maken van een toolkeuze.
Rick heeft als spreker op conferenties een zeer goede naam verworven zowel in binnen- als buitenland. Hij weet als geen ander een goede balans te vinden tussen op de praktijk toegesneden technologische en strategische zaken.
Hij schrijft voor het bekende BeyeNetwork.com. Tevens verschenen van zijn hand diverse artikelen in toonaangevende vakbladen. Verschillende van zijn boeken, waaronder het populaire "SQL Leerboek", zijn in vele talen gepubliceerd. Recent is van zijn hand verschenen Data Virtualization for Business Intelligence Systems", alsook tientallen whitepapers over BI.
Prof. Hendrik Vanmaele is gedelegeerd bestuurder van MÖBIUS, een consulting-organisatie met een negentigtal consultants gespecialiseerd in Business Process Management en Supply Chain Management. Hendrik is tevens docent aan de Universiteit Gent en de Vlerick Leuven Gent Management School. Hij is van opleiding burgerlijk ingenieur en behaalde een bijkomende Master of Science Degree in Industrial Management. Hij studeerde eveneens aan de Cornell University (USA) en behaalde vervolgens een doctoraat in Industrial Management.
Prof. Vanmaele begeleidt bedrijven en overheidsorganisaties bij de analyse, in kaart brengen en redesign van complexe bedrijfsprocessen. Daarnaast is hij gespecialiseerd in het gebruik van simulatie- en optimalisatie-technieken ter ondersteuning van de redesign van bedrijfsprocessen. Hij is tevens auteur van talrijke artikels over Supply Chain Management en Business Process Management.

Jan Henderyckx is onafhankelijk consultant, spreker en auteur. Hij heeft 20 jaar ervaring met DB2 en hij gaf hierover presentaties op diverse internationale conferenties en user-groups meetings wereldwijd. Hij is de mede-auteur van 2 versies van het redbook "DB2 for OS/390 Application Design Guidelines for High Performance".
Zijn expertisedomeinen zijn o.a. master data management, applicatie-ontwerp, performantie, connectiviteit en informatie-integratie, heterogeneous replicatie, data sharing, data warehousing, en applicatie en system tuning. Hij voert regelmatig performantie-audits en design reviews uit voor de grotere DB2 installaties. Hij is bovendien een IBM Gold Consultant, een IBM certified solutions expert op replication and connectivity, en een IBM certified solution designer voor DB2 BI V8. Hij richtte de Belgische DB2 LUW user group op, waarvan hij momenteel voorzitter is.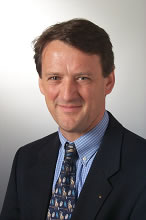 Patrick Reyniers is Manager ICT Applications bij EANDIS, een onafhankelijk distributienetbedrijf voor elektriciteit en aardgas. Patrick werkte 20 jaar bij Electrabel, waar hij o.a. verantwoordelijk was voor het Shared Services en Solution Center binnen ITS, waaronder naast het EAI competence center, ook Development (SAP, Java, .Net, ..), application security, printing & archiving en e-business application service delivery vielen. Sinds 2003 is hij ook freelance consultant in verband met integratie en architectuur.
AGENDA »
Vragen hierover ? Geïnteresseerd maar u kan niet deelnemen ? Stuur ons een email.