Information Architecture Workshop
---
Making information accessible and designing intuitive web interfaces.
13 April 2005 (10-18h)
Location:
Sofitel Diegem
(Diegem near Brussels (Belgium))
Presented
in English
Price:
480 EUR
(excl. 21% VAT) This event is history, please check out the List of Upcoming Seminars, or send us an email
Check out our related in-house workshops:
Learning Objectives
Why this workshop?
If you have been involved in portal or intranet projects, you might have found yourself in an uncomfortable straddle between frustrated users and I.T. people: the former unable to find what they need and clueless about how to get things done within the interface, the latter unable to grasp the users' frustration and pretty much confident to have met the specifications.
Information Architecture is the discipline (some call it an art) of designing user interfaces and structuring information so that users find the information they need and are guided through the interface in an intuitive way while performing a task. Information architects design navigation, search, and labeling schemes, mostly within the context of web sites and intranets. They take ideas from Computer Science, Library Sciences and Web-design Usability.
More and more companies hire this kind of hybrid Business/IT profile because they realise an investment in back-end portal, search and content management infrastructure can be lost if users (employees, customers) are unable to use the interface, or the data lacks the structure or metadata to enable search and navigation. Usability failures can not be undone by user training afterwards because portals are made for a large audience (or one that you do not control, like your customers). Upfront investment in research, time and effort turns out to be a necessity.
This workshop by Peter Van Dijck will give you a lot of valuable ideas, methods and tips on how to make your company information and applications accessible for users.
"Information Architecture" should not be confused with the concept used in Dutch-language literature ("Informatie-architectuur") which refers to an overall vision on I.T. systems within a company (and can thus be used in plural: "informatie-archtecturen").
The initiative informatiearchitecturen.nl tries to clarify by introducing "web architect".
Who should attend this seminar ?
Basically: all people who have to go through meetings with users about web interfaces, usability and how to make information accessible, and who need more method, how-to's in this process.
Portal and intranet project managers trying to find out which audiences they are serving and how to classify and label web information to match these different user groups.
People who have traditionally been active in gathering user requirements for applications but now feel they need to know more about usability in web design.
People who have traditionally been active in Knowledge Management and Content Management people (the "librarians" of your company) and want to skill themselves in User Interaction.
Full Programme
09.30h-10.00h
Registration and Coffee/Tea
10.00h-11.00h
Information architecture overview
The Information Architecture building blocks
What is a classification system?
What are the parts of a successful IA strategy?
What are the skills and practices you need to develop in your teams?
Where does IA fit in with design, technology, business and marketing?
11.00h-12.00h
Working methods & deliverables
We will discuss what working methods to use, and how to get your teams
to integrate these with the methodologies they already use.
Which methods should I be using?
Top down & bottom up IA.
Really effective ways to do user testing.
The secrets of doing a content inventory.
Deliverables: wireframes & sitemaps, and why you might not need them.
Methods that work in the enterprise
12.00h-13.00h
Classification approaches
Understand various classification approaches, and their pros and cons
Hierarchical classification
Faceted classification
Combining classification systems
14.00h-15.00h
IA FOP: Frequently Occurring Problems
We will discuss some recurring problems to be solved in IA, by reviewing some of the cases submitted beforehand by participants.
Examples could include :
problems with decision making about the organization of the homepage,
problems with figuring out how to organize complex information,
problems with understanding whether users can find the information they need,
problems with internal metadata versus client-facing metadata
...
15.00h-16.00h
Enterprise IA
Enterprise IA challenges
Bringing down the information silos.
IA and its role in the enterprise
Enterprise-wide information architectures vs. local information architectures

16.15h-17.00h
Common mistakes when developing portals and how to avoid them.
17.00h-17.45h
Future of IA
Information architecture is a relatively new discipline. This is an overview of the latest thinking and some future directions in the field.
New developments in IA.
Global IA
IA as a discipline.
17.45h-18.00h
Conclusions and Reflections on the Workshop
Speakers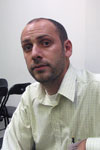 Peter Van Dijck is an independent information architecture consultant. Peter has developed information architectures for Fortune 1000 companies in the US and UK in a wide variety of industries. He has worked on intranets,enterprise portals and public websites.
An experienced teacher and popular speaker, Peter has given talks, seminars and workshops on a variety of topics.
He has published (in English and Dutch) about information architecture for various audiences, popularizing the ideas behind information architecture and wrote the book "Information Architecture for Designers".
Questions about this ? Interested but you can't attend ? Send us an email !