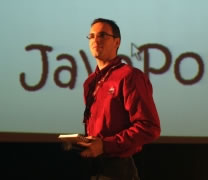 Java EE 5: An Executive Overview
---
An Executive Overview of the Java Platform, Enterprise Edition (Java EE) 5
3 June 2008 (14-21)
Location:
Pullman Diegem
(Diegem)
Presented
in English
by
Price:
540 EUR
(excl. 21% VAT)
AGENDA »
SPEAKERS » This event is history, please check out the List of Upcoming Seminars, or send us an email
Check out our related in-house workshops:
Speakers: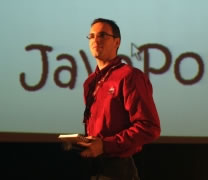 Stephan Janssen has been using Java since its early releases in 1995 with experience of developing and implementing real world Java solutions in the finance and manufacturing industries. In 1998 he founded JCS Int. a Sun authorized Java Center with an exclusive focus on J2ME, J2SE and J2EE since 1997. JCS is also the very first Belgian Java company to speak at JavaOne 2003.
He is also the founder and chairman of the Belgian Java User Group since 1996 and has been organising JavaPolis in Belgium since 2002.
Stephan was selected by BEA Systems as the first European (independant) BEA Technical Director and was recognized by the Server Side as one of the 54 Who is Who in Enterprise Java 2004. In 2005 Sun recognized Stephan's efforts for the Java Community and engaged him in the Java Champion project.
He has spoken at numerous Java and JUG conferences including Java '98 (UK), JAOO '99 (Denmark), JavaDays 2000 (Norway), TMAB (Belgium), JavaPolis 2002-04-05, JavaOne 2003 etc.
AGENDA »
Questions about this ? Interested but you can't attend ? Send us an email !