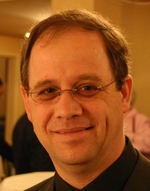 Kennismanagement in de Praktijk
---
Organiseer & optimaliseer het kenniswerk in uw bedrijf !
22 May 2007 (14-21)
Location:
Sofitel Diegem
(Diegem near Brussels (Belgium))
Gepresenteerd
in het Nederlands
door
Prijs:
540 EUR
(excl. 21% BTW)
AGENDA »
SPREKERS » This event is history, please check out the List of Upcoming Seminars, or send us an email
Check out our related open workshops:
Check out our related in-house workshops:
Volledig Programma:
13.30u-14.00u
Registratie met koffie/thee en croissants + Networking opportuniteit
14.00u-16.40u
Overzicht van Kennis en Kenniswerk
Kennismanagement: wat & waarom ?
E-mail overlast en andere waarschuwingssignalen in kenniswerk
Het kernkennisproces: VAN vraag TOT antwoord
Stories: de eenheid van kennis
Standaardtools voor teamondersteuning en document beheer; integratie met MS Office & Outlook
Standaardtools voor persoonlijk KM: blogs, syndicatie, on line networking
Archetypische toepassingen: kenniswinkel, virtuele bureau, kennismijn, virtuele klas, ...
Levenscyclus van kennis en kenniswerk in 3 fasen: haalbaarheid, her-haalbaarheid en efficientie
Organisatie

De kennismanager en de rol van de Chief Knowledge Officer (CKO)
De rol van lijnmanagers
Netwerken en Communities of Practice

Kennis in documenten

Hoe kom ik tot gerichte kennis i.p.v. enorme stapels documenten die niemand leest ?
Kenniskwaliteit
Wat kost het verzamelen van kennis ?
Hoe aanzetten tot lezen en schrijven?

Een overzicht van meer gevorderde kennistools
15.30u-15.50u
Vorige sessie wordt rond 15.30u onderbroken voor koffie/thee, versnaperingen en networking
16.40u-18u00
(Roland Duchateau, kennismanager)
Introductie van KM: opstart, korte & lange termijn objectieven, BPR
Beheer van expliciete bedrijfskennis: gestructureerd schrijven, taxonomie, CMS ...
Communitywerking: aanpak, evolutie, tools, voorbeelden ...
KennisIntranet: strategie, personalisering, ontwikkeling, implementatie ...

19.15-20.00u
Case Study: KM in de praktijk
(Marnix Catteeuw, kennismanagement Technical Operations
InBev
)
plaats van KM in de organisatie: opstart en evolutie
gebruik van KM tools: successen en uitdagingen voor de toekomst
ervaringen met kennisoverdracht via virtueel vergaderen
20.00-20.45u
Hoe kennismanagement invoeren?
De operationele, tactische en strategische kenniscycli
De kennisspiraal
Projectaanpak

Hoe kan deze organisch, maar snel aanpassen aan de verandering van manier van werken, i.p.v. een big bang ?
Timeboxing

Strategisch Kennismanagement & uw kerncompetenties
Metingen in Kennismanagement en Balanced Scorecard
Rendabiliteit
Investeringsanalyse
Culturele factoren
Aandacht! Brain Drain door pensionering van babyboomers
20.45u - 21.00u
Vragen, samenvatting en besluit
SPREKERS »
Vragen hierover ? Geïnteresseerd maar u kan niet deelnemen ? Stuur ons een email.