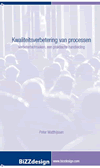 Lean Six Sigma MasterClass
---
Verbeter de kwaliteit, snelheid en kostenstructuur van uw processen en produkten met behulp van Lean en Six Sigma technieken
6 May 2010 (14-21u)
Location:
Crowne Plaza Antwerpen
(Antwerp, Belgium)
Gepresenteerd
in het Nederlands
door
Prijs:
540 EUR
(excl. 21% BTW)
AGENDA »
SPREKERS » This event is history, please check out the List of Upcoming Seminars
Check out our related open workshops:
Check out our related in-house workshops:
Volledig Programma:
13.30u - 14.00u
Registratie en Ontvangst van de deelnemers met Koffie/Thee en croissants
Methoden voor procesverbetering
Hoe voel je de nood aan procesverbetering ?
Korte inleiding tot BPM (Business Process Management)
De PDCA-cyclus: Plan, Do, Check, Act (Deming-cirkel)
Positionering van Lean Management, Theory of Constraint en Six Sigma
Procesverbetering en simulatie
Lean Thinking en Lean Management
Waarom ?
Oorsprong
Lean thinking
De begrippen waste, waste reduction en waste management
Stappen naar Lean Management
Voor- en nadelen van Lean Management
Zoek knelpunten in het proces
Verbeter de zwakste schakel
Voor- en nadelen van de Theory of Constraint
Kwaliteitsmanagement
Oorsprong
Gebaseerd op statistiek
Projectorganisatie
DMAIC cyclus: Define, Measure, Analyze, Improve, Control
Welke verbetertechnieken bestaan er ?
Focus op kwaliteit en geld
Vergelijking van Six Sigma met Lean Management en Theory of Constraint
Wat is Lean Six Sigma ?
Wat is de link met BPM en procesverbetering ?
Wat kunt u met Lean Six Sigma ?
De vier principes van Lean Six Sigma:

Verheug uw klanten met snelheid en kwaliteit
Verbeter uw processen
Werk samen voor een maximale opbrengst
Baseer beslissingen op gegevens en feiten

De vijf wetten van Lean Six Sigma
Lean Six Sigma in de Praktijk
Starten met Lean Six Sigma
Werken aan blijvende verbeteringen
Ervaringen met het verbeteren van processen via Lean Six Sigma
Mogelijkheden van Lean Six Sigma in de eigen praktijk
Best practices in Lean Six Sigma
20.45u-21.00u
Conclusies en Samenvatting
21.00u
Einde van dit seminar
SPREKERS »
Vragen hierover ? Geïnteresseerd maar u kan niet deelnemen ? Stuur ons een email.