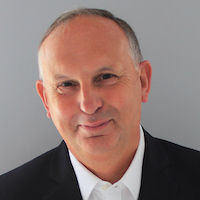 Leadership Strategies for Enterprise Architects
---
Intensive and Interactive Practical Seminar on how to Choose the Interventions that Maximize Success
7-8 November 2018 (14-21h)
Location:
Parker Hotel
(Diegem)
Presented
in English
by
Chris Potts
Price:
1450 EUR
(excl. 21% VAT)
Register Now »
AGENDA »
SPEAKERS »
Our events before the 1st of May are postponed, events after the 1st of May are still planned. However, if we have to cancel an event due to corona, you can reschedule to a future event. This event is history, please check out the List of Upcoming Seminars, or send us an email
Check out our related open workshops:
What will you learn here ?
During this intensive and interactive seminar, delegates will learn to:

Maximise each Enterprise Architect's contribution to the enterprise goals
Tune the Enterprise Architect's strategy to the organisational culture
Validate Enterprise Architecture's role in the investment process
Shape the enterprise's architectural ideas and investments
Grow each Enterprise Architect's leadership and influence

Your browser does not support the video tag.
About this course:
There will never be enough Enterprise Architects. They are uniquely-valuable, specialised, and scarce, and their contributions come through their leadership of others. This intensive and interactive workshop focuses on the strategies that Enterprise Architects use to choose their most productive interventions and maximise their success.
How Enterprise Architects choose to invest their time and skills shapes the value of Enterprise Architecture (EA). Their interventions demonstrate, in practice, EA's positive and durable impacts - on the changes people conceive of and design, on the investment projects that deliver those changes, and on the enterprise's overall performance.
Enterprises constantly redesign themselves. Being an Enterprise Architect is different from many other kinds of architect. In an enterprise, anyone, at any time can have an architectural idea. Executives make architectural investments, whether they know it or not. Helping people to distinguish architectural ideas and investments from all the non-architectural ones is a vital reason why enterprises need architects.
Enterprise Architects are leaders, influencers and facilitators. They work with a scope that is specific to the enterprise goals, are tuned-in to the organisational culture, and are guided by measures of the enterprise's structural performance. They grow their influence through their role in the investment process, their win-win network, and their leadership of others.
5 Reasons why you should attend this seminar:
Entirely founded on Chris's practical work with leading companies around the world
Case study based on real life situations and experiences
Independent of any EA-related method, framework or tool
Interactive workshop format
Chris's seminars regularly receive 10/10 for content and style
Who should attend this course:
This course is designed for everyone who is interested in maximising the contribution of Enterprise Architecture, including, but not restricted to:
Chief Enterprise Architects
Enterprise Architects, Business Architects
Change Portfolio Managers
Senior Business Analysts
Consultants specialising in Strategy, Enterprise Architecture or Portfolio Management
AGENDA »
SPEAKERS »
REGISTER »