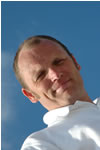 Microservices: How to Design, Develop and Deploy
---
Brandnew seminar about this important trend in software development
10 December 2015 (14-18h30)
Location:
Holiday Inn Airport
(Diegem)
Presented
in English
by
Sander Hoogendoorn
Price:
480 EUR
(excl. 21% VAT)
Register Now »
AGENDA »
SPEAKERS » This event is history, please check out the List of Upcoming Seminars, or send us an email
Check out our related open workshops:
Check out our related in-house workshops:
What are Microservices, and what is a Microservices Architecture ?
The development and maintenance of monoliths presents organizations with increasing challenges, resulting in high costs and a slow time-to-market. More and more organizations are therefore attempting to componentize their applications.
Microservices is the latest and greatest paradigm that finally seems to deliver on the promises of service-oriented architecture: shortening time-to-market, scalability, autonomy, and exchangeability of technology and databases. The challenges of delivering microservices however are equally big. What makes a component a microservice? How to design, develop and deploy these small services? How does communication and collaboration between analysts, developers, testers and operations change in an organization ?
Because microservice architectures are a pretty new but very promising topic, we organize this half-day seminar with Sander Hoogendoorn. Besides offering a general overview of what microservice architectures are, this seminar also gives you a practical answer to these and other questions:
How are microservices designed, developed and finally deployed ?
What makes a component or service a microservice?
How does this change the cooperation between analists, developers, testers and managers when an organization goes for microservices ?
Why do we organize this seminar about Microservices ?
During this half-day course, Sander Hoogendoorn shares the voyage that implementing a microservices landscape is. He will answer questions on modelling and designing microservices, the granularity of applications and services, the communication between services, design patterns, polyglot persistence, testing services and setting up deployment pipelines. Richly illustrated with real-life examples, this course gives a perfect introduction into this promising technology, based on Sander's many years of experience in agile, Scrum, requirements, architecture and coding.
Who should attend this seminar ?
This seminar is particularly interesting for everyone who is involved in software development projects: from stakeholders, IT-managers, project managers and product owners, to software architects, information analists, designers, developers and of course testers.
AGENDA »
SPEAKERS »
REGISTER »
Questions about this ? Interested but you can't attend ? Send us an email !